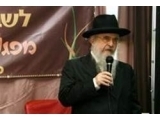 Rabbi Shalom Dov Lifshitz passed away on Thursday night at the age of 84. The rabbi was known for his dedication to fighting missionary activity and assimilation, a fight he conducted through his organization, Yad L'Achim.
His funeral will begin Friday at 10:30 a.m. at his home on Beit Shammai in Ramat Gan, and will proceed to the Chabad synagogue on Uziel Street where Rabbi Lifshitz presided as rabbi for many decades. The burial will take place on the Mount of Olives (Har Hazeitim) in Jerusalem.
Rabbi Lifshitz's motto was, "We must not give up on even a single Jew. Every Jew is the offspring of our founding fathers: Avraham, Yitzchak and Yaakov." His motto has become the motto of Yad L'Achim.
Yad L'Achim is perhaps best known for its daring rescues of Jewish women trapped in Arab villages by abusive husbands. Activists have entered even the most hostile areas, some under Palestinian Authority control, in order to retrieve Jewish women and children interested in escaping to Israel.
After each rescue, Yad L'Achim continues to provide help to those it has rescued, often assisting families for years. The group is also involved in a wide variety of other activities, from raising awareness of missionary tactics to helping immigrant parents find appropriate schools for their children.
Just weeks before his death Rabbi Lifshitz led a campaign to raise awareness of missionary activity through advertising in Haaretz, a left-wing paper with a largely secular readership. Yad L'Achim activists report that the response was immediate, with many contacting the group after being made aware that "messianic Judaism" is in fact Christianity, and has traditionally been seen as such by even the most staunchly secular Israeli leaders.