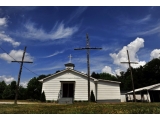 Attendance at the Southern Baptist church on Scenic Drive had dwindled to about 15 most Sundays. The potted plant by the pulpit was from yet another member's funeral. There was $5,000 in the church bank account and $6,000 in bills when Larry Montgomery, a deacon, reached a conclusion once unthinkable in the heart of the Bible Belt.
"We're just not going to make it," he announced to the members of Scenic Drive Baptist, and then he told them he might have found a solution.
There was another congregation, he said, a small one that had been meeting in living rooms and whose pastor carried business cards that quoted from John 4:35: "Look at the fields! They are ripe for harvest." Maybe they wanted to buy the church.
And so phone calls were placed, and a few days later, the prospective buyers held a prayer meeting about what to do.
"Abuna Semawi, nashkurak," the pastor began in Arabic. "Heavenly Father, we thank you."
Not long ago, none of this would be happening. There would be no dying traditional Southern Baptist church and no Arabic Southern Baptist congregation to buy it. There would be none of that, because old-line Southern Baptist churches anchored practically every big city and little country town in the South, their oak pews filled with believers in eternal salvation through the blood of Jesus and the rest of what it meant to be good Christian Southerners: missionary training, handbells, casseroles for the homebound.
In particular, they have been the church of the conservative white South, the people the Rev. Martin Luther King Jr. was trying to persuade in his "Letter from Birmingham Jail" and the people whom GOP operatives knew they must mobilize at election time. If a poll referred to "white evangelical Christians," that largely meant Southern Baptists.
Except that for the past decade, the denomination has been in what its leaders describe as a "discouraging" retreat. Although Southern Baptists remain by far the nation's largest Protestant denomination, with an estimated 15 million members, a steady decline in overall numbers — of members, baptisms and churches — has led to much soul-searching and the realization that survival depends on becoming less insular and more diverse.
To that end, the Southern Baptists have apologized to African Americans for "racism of which we have been guilty," expressed support for immigration reform, and in general sought to be less white, if not less conservative. A rising number of congregations are Latino, Asian and now Arab.
There are "church revitalization" conferences, too, almost every month, all over the South on topics such as "diagnosing the fears that limit church vitality."
But all of that was coming too late for Larry Montgomery. He had seen Scenic Drive Baptist when its pews were full and watched it degenerate into petty fights over money and personalities. The membership had aged and remained white as the area was booming and becoming more diverse. The weekly offering had dwindled, and the finance committee had cut funds for salaries, Sunday school literature and paper plates, none of which was enough.
"We don't have time to dillydally," Larry had said when he addressed the congregation, explaining that selling to the Arabic Baptists might be their best hope of keeping the church from closing.
They prayed and then took a vote, and now, a few miles away in a suburban living room, the members of the fledgling Arab congregation were considering an opportunity they never anticipated in a place that never quite anticipated them.
"Ashkurak kainak gamatina marra taniya inu agtimaa amamak," continued the pastor, Raouf Ghattas, leading the prayers. "Thank you for bringing us together one more time to gather before you."
"Nam," whispered a member. "Yes."
"We need our home Lord," Ghattas continued. "Speak to our hearts."
How an Arabic Baptist church came to be, much less came to be in Murfreesboro, Tenn., is another story of the changing South, which is now home to seven of the top 10 suburban areas with the fastest-growing immigrant populations, a list that includes the Nashville-Murfreesboro corridor along Interstate 24.
Specifically, it is the story of Raouf Ghattas, who was born in Egypt and grew up a Presbyterian. As an adult, he came to the United States to work as a nuclear engineer in Charlotte, where he learned to pronounce biscuit "biskit" instead of "biskwit," grew tired of fast living and fond of Billy Graham, and in a mood of desperation one night, called out, "Lord, even if I die, I can't live like this anymore."
"The Lord made it clear," he said. "No more drinking. No more girls. No more smoking. I slept like a baby. The next morning, I said, 'I am a new creation in Christ.' "
As a new creation, Raouf decided to stop being a nuclear engineer and attend a Southern Baptist seminary to become a preacher. He was drawn to a denomination that embraced evangelism and, as he saw it, conservative values similar to those in the Arab world, where men headed the family, and homosexuality was against God's order.
He was also drawn to his future wife, Carol, who grew up in Murfreesboro and was attending the same seminary. As a couple, Raouf said, the Lord gave them a mission: "Never rest until you tell every Arab about Jesus."
Their view of Islam was simple: that all Muslims were in need of salvation, which, as good Southern Baptists, they understood could come only by following Jesus.
So they went abroad as missionaries, living in Turkey, Lebanon, Egypt, Tunisia and Syria. Raouf worked to convert Muslim men to Christianity, and Carol, who speaks fluent Arabic with a soft Southern pitch, wrote Christian-themed novels intended to appeal to Muslim women, such as "Lust Under the Veil."
Meanwhile, the Muslim world was coming to Murfreesboro, a door first opened by a U.S. decision designating Nashville as a "gateway city" for Iraqi war refugees in 1992.
By the time the Ghattases moved back to Tennessee nearly two decades later, so many Iraqis, Egyptians, Saudis and Somalis had moved to Nashville and along Interstate 24 that Carol found herself saying something to her husband that she never imagined:
"My little town of Murfreesboro has a mosque."
It was 2010, and the mosque was part of the 52,000-square-foot Islamic Center of Murfreesboro, whose construction was drawing national attention. A congressional candidate described it as an "Islamic training center" that was "designed to fracture the moral and political foundation of Middle Tennessee." Hundreds of protesters waved signs that read "To embrace Islam is to embrace terrorism!" while counter-protesters yelled "Love thy neighbor!"
As it happened, the Islamic center was also being built in an open green field next to a Southern Baptist church — not the one on Scenic Drive but another of the 59 Southern Baptist churches in Murfreesboro — Grace Baptist, which had a deacon who greeted his new neighbors by installing 23 huge white crosses along the road leading to the mosque.
Seeing all of this unfold, Raouf, who had planned to retire to a life of woodworking, asked his wife, "What should we do?"
The answer was that they would do what they always had done: try to convert Muslims, only now they would do it in Murfreesboro.
To this end, they began holding seminars in churches around town, explaining Islam as they understood it. They also began gathering the few Arabic-speaking Christians they knew to worship in living rooms, believing that they would be best suited to tell Muslims about Jesus. "It was all about how to deal with and love Muslims," Raouf said. "But a lot of churches did not welcome that. They did not want to talk about Islam, period."
One church that did want to talk turned out to be Grace, whose pastor, a white-haired 70-year-old, invited Raouf to hold one of his seminars during the height of the mosque controversy and eventually invited the Arab congregation to hold services at Grace.
For a while, things were going well. White members were learning that Isa means Jesus and marhaba means welcome. But then the pastor retired, the deacon who had put up the 23 crosses said that he was uncomfortable with all the "multi-cultural stuff," and Raouf was writing a letter to Grace saying simply that God "has clearly showed us that we need to move."
With that, the Arab Baptists went back to meeting in living rooms until the day this spring when Raouf heard about the demise of Scenic Drive.
A few days later, he and Carol drove over to see the church.
It is just off Old Nashville Highway, past a Civil War battlefield and green pastures, about a mile beyond the Lao Buddhist Temple but before the Greenville Turf and Tractor.
They looked around the neighborhood. It was a grid of one-story, vinyl-sided houses, some with wheelchair ramps and others with fishing boats in short driveways and birdbaths in yards blooming with azaleas and irises. Here and there was a Confederate flag.
It was in many ways a good location, Raouf thought. The church was on the weedy outskirts of Murfreesboro toward Nashville, which would be good for recruiting more Arabic-speaking members who lived out that way.
Carol thought about the sort of church they might become. "We want to be a true blend of Americans and Arabs, because that's what America is all about," she said.
Raouf wondered whether his little congregation would be willing and able to buy the property. And something else, too: what the neighbors would think if an Arabic sign went up.
"My fear is that people are going to think it's a mosque," he said. "I'll say, 'Guys. It's a Baptist church. A Baptist church.' "
A week later, still awaiting the Arabic congregation's decision, Larry was at the church, remembering the first time he had walked inside. It was 14 years before and two Sundays after his wife had died.
His daughter, the only one in the family who attended Scenic Drive, had told people about her mom being sick and her dad being devastated, and the members had sent Larry lots of homemade food with notes saying he was in their prayers.
He had felt that the least he could do was return the dishes and say thank you in person, and so there he was in the parking lot, feeling nervous as he approached the double glass doors.
"I remember Dan Howland and Gaylon Jones came out and asked if I needed help," he said, referring to two retired truck drivers who were church deacons.
He stayed for worship, came a couple of Sundays after that, and started to feel something he had felt in churches growing up in a Tennessee mill town, where his mother died when he was 7 and his father was an alcoholic whose moods could be mean and unpredictable.
"It was comforting," Larry said of his childhood church. "You didn't get yelled at. It always felt safe at church. You felt as though you belonged."
The church that saved him then was in an old cotton mill building whose wooden walls bulged with honeybees that would swarm during service. Later, when he was a scared and lonely Marine recruit in boot camp, it was the church whose pastor told young soldiers it was all right if they fell asleep in the pews.
Two weeks after his wife died came Scenic Drive.
"This is fellowship hall," Larry said, walking into a low-ceilinged room that smelled like burned coffee, its peach walls hung with a needlepoint Last Supper. "On Wednesday night, we do prayer meetings and dinners, and there's a senior luncheon a couple times a year."
He walked down the hall past the adult Sunday school rooms he had painted and the folding chairs he had helped fix with tennis balls on the legs, past the bulletin board pinned with memorial programs for Gaylon Jones and a member named Norma who had handled church dinners.
He pushed open the swinging wooden doors and walked into the sanctuary, where he kept the thermostat at 69 in the summer and 71 in the winter, and down the aisle between two rows of heavy oak pews stocked with blue Baptist hymnals and boxes of tissue.
"That's the baptistry there," he said, pointing to the heated pool where the pastor, wearing waders under his robe, would immerse new believers, including, one Sunday, Larry himself. He had accepted the Lord at the sweaty end of a revival when he was 11 but never got baptized, and on the day that he finally did, he emerged from the water and went to a steak place for lunch, feeling all the relief of a person who believed that hell was a real place and that heaven was, too.
Now he couldn't remember when the last baptism was.
"It's been at least close to two years," he said.
He had tried to do what he could to turn things around at Scenic Drive. He had walked the neighborhood over the years, knocking on doors to try to get new members. If people invited him inside, he usually wound up praying with them about some illness or financial hardship, and in this way he also saw how the neighborhood was changing.
"It used to be mainly white and black, but there's a lot of Hispanics now. I know of one Muslim gentleman who lived here in the back," he said, gesturing toward a street behind the church.
This was the only Muslim Larry had ever encountered, and it was during the mosque controversy, so he had been especially curious.
"I wanted to know: Who do they really worship, and what do they worship, and how?" he remembered. "And how do we approach them?"
He had tried to bring up the subject of Jesus, but the man wanted no part of it.
"He was determined," Larry recalled. "Other than that, he was very nice."
Now he tried to wrap his mind around the possibility that an Arab congregation might take over Scenic Drive.
"We've had Korean Baptists a long time, but I don't know why I never thought of Arabic Baptists," he said.
No one at Scenic Drive had really imagined it, and when Larry told the congregation, people had questions. Would the old Scenic Drive members be welcome? Would the name stay the same? Would there be changes to the building?
"The answer is probably yes," Larry recalled telling them.
Now he looked around the sanctuary.
"When I first came, I sat on this pew right here," he said, putting his hand on the third pew from the front.
"Virginia — that's her shawl," he said, pointing to the crocheted white shawl draped over another.
He stood for a moment near the swinging wooden doors. He had come here almost every single Sunday for 14 years.
"I guess, up until now, you always knew it would be there," he said.
He took a deep breath and exhaled.
"Oh, goodness," he said. "What am I going to do?"
A few hours later, Raouf called Larry.
"Brother Larry, we feel so excited about this," he began.
"I want you to know that this is not the end of what you are doing, that you will be welcome, anytime," he continued, and soon after that, on a Sunday, 20 members of the Arab congregation gathered in a conference room and closed their eyes at their last service before moving to their new home.
There was Obodia Ebtehag, who had been a Methodist in Nashville until he moved to Murfreesboro to work for the post office, where he had met the Ghattases. There was Maged Boles, who had been an Anglican in Cairo and became a Southern Baptist after meeting Raouf, who helped him get a job.
There was Sanaa, Fattah and Ibrahim and there were some white Baptists, too, who had come at first out of curiosity and then because they liked the preaching they heard through their headsets, which carried Carol's translations of her husband's sermons.
The Arab members bowed their heads. The white members put on headsets. Ghattas stood in front of them in a light tan suit and began to pray.
"Lord, we want to be a family before you," he began, as Carol whispered the translation, and then the lyrics of an Arabic hymn were projected onto a white screen, the words spelled out phonetically.
"Ismoka aagebun mosheerun kadeerun," they all sang.
Now Raouf stood up and projected onto the screen a photo of the beige brick church on Scenic Drive.
"The Lord really opened the door to this place," he told the members, and announced that the sign for Scenic Drive Baptist would soon come down and that a new sign would go up.
"Arabic Baptist Church of Murfreesboro," it would say in English on one side, in Arabic on the other.
"Amen," someone said.
And across town, in the sanctuary of Scenic Drive Baptist Church, Larry Montgomery stood up for the last Sunday announcements.
Dan had avoided surgery. Josh needed a new microwave, and did anyone have one they could give him? Someone said yes.
Then people were invited to "share the meaning this church has had, because with any change, there is grief."
A woman stood up.
"When I first came down here, I looked around for a church, and this is the one I found, one I was very pleased with," she began, her voice wavering. "If there is anything I can do here to help with the church, that helps get it together, I will do it."
A man stood up.
"I pray for all y'all and hope you'll pray for me, too," he said, and sat down.
Another woman stood up.
"I hope I can do this without crying," she began, both hands gripping the back of the next pew.
"Well, cry," she was told, and she did.