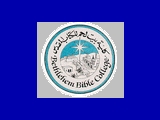 The Bethlehem Bible College is now officially a four year College. The Middle East Association For Theological Education, based in Amman, Jordan had accredited the college and commissioned it to give a Bachelor of Arts degree in Christian Education and Biblical Studies.
Bethlehem Bible College was started in 1979, graduated over 300 students in Associate of Arts degree. The degree was also recognized by the Ministry of Higher Education of the Palestinian National Authority.
Students who finish a BA degree can now enroll in BBC's special program which is associated with the Ministry of Tourism of the Palestinian Authority, for another 18 months of intensive studies. These student can become listened Tour Guides. This program is equivalent to a MA degree.
The Board of BBC had approved the opening of a new theological education center in Nazareth in cooperation and in conduction with the area churches.
The other important board decision is the opening of Mass Media Education Center in Bethlehem. This center will give opportunity of skills and work to interested students. Students will become professionals in four areas:
1. Radio
2. Journalism
3. Television
4. Internet