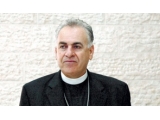 n the lawsuit, Dawani's attorneys note that the Anglican Church has 90 million followers, among them U.S. President Barack Obama, former president George H.W. Bush, and former vice president Dick Cheney.
Dawani is also an official emissary of the queen of England, who holds the official title of head of the Anglican Church. By dint of his position, Dawani is a frequent guest at official state ceremonies, according to the lawsuit.
Last August, the Interior Ministry informed Dawani that it would not renew his visa. In a letter addressed to Dawani, the ministry stated: "[Dawani] acted in concert with the Palestinian Authority by fraudulently selling land owned by Jews to Palestinians − thus being complicit in falsely registering Jewish-owned land as land belong to the church."
Dawani has denied that he was personally involved in any real estate transactions. "During his tenure, there were no land deals," said his attorney, Rhanan Har-Zahav. "This is something that is very easy to prove, since there are no documents that would indicate such deals took place."
"I have written to the attorney general and I asked that before an individual of such stature is deported, we should at least give him the opportunity to present his side," Har-Zahav said. "Yet even this was not granted to him. Nobody bothered to get back to me."
According to the lawsuit, the Interior Ministry's decision "undermines the longstanding tradition which grants clerics who live in Jerusalem a special status in the eyes of Israeli justice. This decision [to deport Dawani] is a grave, serious act that strips the bishop of his ability to carry out his functions while harming the church and its devotees, not to mention the image of the state of Israel and its foreign relations."
The case has attracted the attention of the Episcopal Church's bishop in Washington, John Bryson Chane, who protested the Interior Ministry's decision during a meeting with Israel's ambassador to Washington, Michael Oren.
Bryson Chane and the presiding bishop of the Episcopal Church in the United States, Katherine Jefferts Schori, wrote a letter to Prime Minister Benjamin Netanyahu urging him to renew Dawani's visa. A copy of the letter was forwarded to Obama. As of last night, Netanyahu had yet to reply.
"This is a sensitive issue that came before the interior minister and our detailed reply will be given in court as part of the petition that was filed," the Interior Ministry said in a statement