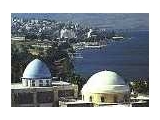 Hartuv stressed that this was an attack on Robertson and his comments rather than a rejection of the evangelical community as a whole, which has become a target group for Israeli tourism in 2006.
Robertson lost favor with the ministry when he said on his popular 700 Club TV show that "God considers the land to be his? For any prime minister of Israel who decides he is going to carve it up and give it away he says, 'No, this is mine.'"
The charismatic broadcaster led a group of evangelical Christians who have agreed to raise more than $50 million to build the Heritage Center on a 14-dunam plot of land on the shores of the Sea of Galilee.
Hirchson, who has been a close ally of Sharon throughout the disengagement period and was among the first Likud members to defect with him to form Kadima, was scheduled to sign the agreement with Robertson committing the government to provide the land and infrastructure for the project and the evangelicals the funding.
While Hirchson pulled the plug on Robertson, the project is going ahead as planned and looking for alternative avenues of finance.
"Many people are enthusiastic about the project," said Uri Dagul, who voluntarily heads the steering committee overseeing the project. "We initiated the project before Robertson was on board, and we will continue without him."
Dagul did not dismiss the possibility of working with Robertson if the evangelist issued an appropriate apology.
A spokesman for Robertson could not be reached in time for this report. A reaction to the outcry following his comments posted on his Web site Thursday fell short of issuing an apology, attempting to further explain his stance.
The government presented its plans for the heritage center and biblical garden in May saying it expected the center to bring an additional 750,000 visitors to the country annually.
Dagul said that the allocation of land was expected to be complete within the next six weeks, after which a nonprofit organization needed to be registered before it got the go ahead.
Dagul predicted that construction would start in 2007 and that it would take three to four years to complete.