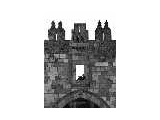 BEIT JALLA, West Bank (AP) ? First, Jihad Souy's tourist business dried up because of Palestinian-Israeli violence. Then his house was burned during a gunbattle. Now he's moving his family to Australia.
It's a scene being played out among Palestinians across the West Bank. Their economy devastated by eight months of conflict with Israel, many have given up and plan to move somewhere else to rebuild their lives.
Shortly after the fighting erupted Sept. 28, Israel clamped down on the West Bank and Gaza Strip, banning Palestinians from entering Israel as a security risk. That idled about 130,000 people with jobs in Israel, drying up a crucial source of income for the Palestinian autonomous zones.
Bethlehem, the West Bank city next to the village of Beit Jalla, has been hit doubly hard. Bethlehem's economy depends on tourists visiting the Church of the Nativity at the traditional birthplace of Jesus and other Christian holy sites.
But the violence has frightened tourists away, and instead of a flood of millennium-era pilgrims, there has been barely a trickle. Many shops and small workshops like Souy's have shut their gates.
Souy, his wife and two small children are in a tougher situation than most, having lost both his livelihood and their house. Until they leave for Australia, they are living in his closed-down shop, among the unsold tourist pictures with a Christian religious theme that he made there.
``I sold most of the house furniture that survived the gunbattle to feed my children,'' said Souy, 35, whose wife is expecting their third child. ``I decided to emigrate because there is no end to our problems with the Israelis.''
Many of the Palestinians planning to leave are Christians like Souy's family. Palestinian experts say there has been a gradual outflow of Christians from the Holy Land, with their numbers dropping by half over the last century. Christians are now barely two percent of the roughly 3 million Palestinians in the West Bank, Gaza and East Jerusalem.
There are no firm figures on the number of Palestinians who have left or are planning to leave, but Palestinian officials acknowledge it is a growing phenomenon, especially among Christians. Some of them are people who had lived abroad and returned in the mid-1990s in anticipation of peace.
Among the hardest hit areas is the vicinity of Bethlehem, a traditionally Christian district. For several decades, however, the town where Jesus was born has had a growing Muslim majority; Christians now account for about a third of its 18,000 people, according to Bethlehem University sociology professor Bernard Sabella.
At least 300 people have left the Bethlehem area in recent months, said Bishop Munib Yunan, the head of the Anglican church in the Holy Land. He said most headed for the United States and other countries in the Americas.
Even the closing of a luxurious casino in the desert oasis of Jericho because of the fighting affected Bethlehem. Owned by Palestinians and foreign investors and frequented by Israeli gamblers, the casino provided about 2,000 jobs, half of them filled by workers from the Bethlehem area. Now they are unemployed.
The Palestinian Authority's tourism minister, Mitri Abu-Aiteh, blames Israeli restrictions for the departure of some Palestinians.
``The Israelis are trying to push our people to emigrate,'' he said. ``They encourage Palestinians and investors to look for new opportunities in other countries.''
Maj. Peter Lerner of the Israeli civilian administration in the West Bank denied the allegation. ``Israel has no interest in encouraging Christian Palestinian emigration,'' he said.
Intentional or not, the situation is untenable for newlyweds Jouad and Nadia Misleh. Married four months ago, Nadia Misleh said they plan to move to Miami.
``Not forever, but to guarantee the future of our family,'' she said.