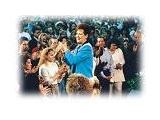 A special conference for leaders of different Messianic congregations in Israel was held in Dan Panorama hotel in Tel-Aviv 23-25 May. The conference was hosted by
Joyce Mayers ministries
under the title "Life in the Word of God".
Mrs. Mayers preached about the need to have peace in the life of leaders and congregational leaders as a condition for growth in congregations.
Speakers in the conference that was attended by 270 leaders,including 30 leaders from Arab Evangelical Churches,emphasized the need for dealing with struggles and conflicts in a Biblical manner and how to deal with the root of bitterness (Hebrews12:14-15).