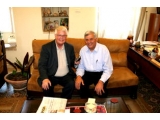 As the Jerusalem taxi I was recently traveling in approached the check point into Bethlehem, memories came flooding back to me of the day that my wife Norma and I were in Bethlehem and had a close brush with death at the hands of five Palestinian gunmen.
The date was January 6, 2001 and only the fast-talking actions of our Arab taxi driver, and the providence of God, saved us from being shot.
Norma had never been to the Middle East before and we had spent the previous day peacefully visiting a center for deaf children in Gaza, which we had been told was one of the most dangerous places on earth. But we loved every moment of our visit and were treated with great courtesy.
had told Norma about the wonderful work of the Bethlehem Bible College and so we had hailed a taxi in East Jerusalem, where we were staying, and asked the driver to take us into the birthplace of Jesus.
When we arrived at the main Israeli check point, we found that it was sealed off for the Greek Orthodox Christmas celebrations in Bethlehem, so our taxi driver decided to take us in via a back route.
My heart began to race as we drove into Bethlehem, as I spotted scores of gunmen who were stopping vehicles.
As we got close to the Church of the Nativity, five young gunmen, who we were told were possibly from Islamic Jihad who were on the lookout for Jewish settlers trying to get into Bethlehem, stopped our vehicle. They noticed the yellow Israeli plates on the car, and they began shouting as they surrounded the taxi and the scene became extremely ugly.
Our taxi driver, whose face drained and turned white, kept shouting to them that he was an Arab and we were Americans. After about three heart-stopping minutes, they suddenly backed off and their leader waved us through.
He later explained that if they had thought that Norma and I were Jewish Settlers coming in for a fight and were planning to pull us from the taxi and shoot us in cold blood.
This time, Bethlehem was completely peaceful, however, and soon I was in the Bethlehem Bible College on the Hebron Road to meet with its delightful founder, Dr. Bishara Awad, a true hero of the Middle Eastern Church.
There in his offices, just ten minutes drive from the Church of the Nativity, the traditional birthplace of Jesus, he greeted me warmly.
"It's so nice to have you here again and welcome Dan," he began. "We are so excited that we have a Bible college in Bethlehem to train young people to be pastors, leaders and directors for the churches in our community. The work here is very exciting."
I asked Bishara to outline the history of the Bethlehem Bible college and he replied, "We started in 1979 in a school where I was the headmaster and the Lord blessed that little seed and vision and now we have a beautiful Bible college with four buildings, many students studying many programs
"We have graduated many leaders they are already in the field pastoring, planting churches, teaching in Christian education, counselors and so on. So we are making a great impact in the whole community especially in the Palestinian Christian community."
Why did he feel the need to have a Bible college in this difficult part of the world?
"Well it was very important for me at that time as I found out that many young people who wanted to study the Bible would go outside to study and then most of them did not come back," he explained. "So I thought to myself, 'We are losing many future leaders.' Beside that the Christian community is very small here. So I shared my vision with the pastors and they all agreed that we needed a Bible college and they asked me to start it and that was 30 years ago!
"At first we met at the school where I was the headmaster for two years and then a church invite us to meet in their facilities and the Lord blessed us with money we were able to rent a place.
"Then in 1999, we discovered that the Bible Lands Society who had, here in Bethlehem, a school for the blind that had been empty for ten years because they moved to Jerusalem and so we were able to use the facilities and later on we were able to buy the buildings for close to $2 million dollars. So the Lord has really blessed us and this Bible college. It is His Bible college -- we know that for sure.
"All of our students are Palestinians and they come from Bethlehem and also from the cities around here as well as from Jerusalem and from the cities north of Jerusalem. We also have students from Nazareth and also Gaza that are studying here.
"At present, we have about 144 students and we also have an extension in Nazareth and also the Galilee Bible College in Galilee. That is a sister Bible that we started."
Bishara went on to say, "I think these two places are strategic since most of the Palestinian Christians mainly live in the Bethlehem area and in the Nazareth area. So it's just very obvious to have a Bible college in these places.
"God really is blessing the work to the point that we are expanding and we have no problem attracting students to come and study even though the Christian community is less than two percent in the whole area. The nice thing about all of this is that Palestinian Authority has recognized us as a four year Bible college. So they will co-sign the certificate and we may be the only Bible college in all of the Middle East in which an Arab country recognizes our degrees."
What sort of topics do they teach?
"We have students who are interested in the Bible, so we give them a degree in Biblical studies and Christian education; that's a four year degree," said Dr. Awad. "We have other students that come from the community and we train them to become tour guides. This way they are able to find jobs. Another program is media and we have students from the community they come to study television, radio, journalism, production, web page design and they love it and it's a very strong program. This one is a two year intensive program."
One of the greatest supporters of the Bethlehem Bible College is Brother Andrew, the Dutch-born author of "God's Smuggler" and the founder of Open Doors.
Yes, Brother Andrew is a regular visitor and we have a room for him at our guest house that is called the 'Smuggler's Inn.' It's his room and he uses it every time he comes to Bethlehem. He is a very encouraging person and we love to see him every time.
"Brother Andrew has been a great supporter of our work by encouraging us, praying for us and introducing people to us," he said. "Open Doors also support some of our students so they can continue to study here."
I then asked Bishara, as he showed me around the facility that is growing by leaps and bounds, if he could have ever dreamed that it would be as big as it is today.
"No way," he smiled. "It is just something that we know the Lord has ordained and I felt very good at the beginning and I said, "Ok, Lord, it's yours. You can carry this boat and take it wherever you want.' And sure enough now, after 30 years, we can see this beautiful Bible college and it's truly a light for the Lord Jesus Christ."
Why is it important to train Palestinian Christians?
"Well the Church of Jesus Christ here, in many ways, is a suffering church because many Christians are leaving and we hate to see this land, the land of the Bible where Jesus was born and where he was raised, be emptied completely out of the Christian community," he said.
"But I am glad to say that those who have studied the Bible with us and have a degree, they are still in the land they are serving the Lord Jesus Christ. I would say 98 percent of our graduates are in the land serving the Lord and have not left.
"There are at least fifteen evangelical churches in the area and most of our graduates are planting these churches. The other day, we had the pastors meeting and I looked around and there were about twenty of them and more than half of those who are there were graduates of the Bethlehem Bible College. They are pastoring churches. So the Lord is really using them in many, many ways, whether it's here or in Nazareth or Ramallah, in Gaza, and many different places?
"It is very important to keep Christianity here in this land where it all started. This Bethlehem isn't my Bethlehem; it's the Bethlehem of every Christian from all over the world. And so this is why we call on people to pray for us, to support the work, to support our The Shepherd Society which is the 'help' work that we do for the community. Many people are unemployed so we try to help them out in many ways. We want to be a light."
Bishara then expanded about why he started The Shepherd Society.
"Here in Bethlehem and this country, we have run into many problems and uprising and intifadas and many people have lost their lives and also their jobs, so there are lots of poor people around us. Unemployment is 30 percent. So, as a Christian center, we said we want to help the people and we started The Shepherd's Society to give the people food and medical aid. We allow children to continue their school by paying their fees and we have a family-to-family sponsorship program where we support a family on a monthly basis so that they continue to at least make ends meet.
"So The Shepherd Society is really one of the outstanding humanitarian works in the town of Bethlehem."
After my previous experience in Bethlehem all those years ago, I asked Bishara if Bethlehem was now safe to visit and he replied, "Bethlehem is one of the safest places in the whole world," he stated. "We have visitors that come and stay with us and they walk the streets at night without any danger at all. You can walk until even at midnight in the streets of Bethlehem and no one will bother you. This is really true.
"It is all propaganda when some travel agencies tell people it is dangerous to go to Bethlehem. This is nonsense. It is not dangerous at all."
Dr. Award then said, "We try to be a force, a light force, and an encouragement to all the churches in our region. Yes, we are evangelical, but we train people even in the traditional churches also. So they come to us and they go back to their churches and some of our graduates have become priests for different orthodox churches. So we are truly a light for the lord Jesus Christ. When Brother Andrew in his book 'Light Force' he talks quite a few chapters and pages about Bethlehem Bible College and we are very grateful for it because we are a light for the Lord Jesus."
I concluded by asking Bishara if Jesus was alive today and could visit the Bethlehem Bible College, what would he said to Him? He smiled gently and said, "I would tell him, 'Thank you Lord for being with us.' Then I would say, 'Welcome Lord Jesus.'"
By the way, when I left Bethlehem, I could resist asking my Arab taxi driver to take me close to the spot where Norma and I nearly died and then I thanked the Lord not only for sparing us, but for the fact that Bethlehem is now a wonderfully peaceful city that Christians can visit once again while they are in the Holy Land.
For more information on the Bethlehem Bible College, go to
www.bethlehembiblecollege.edu
Note to broadcast media. An MP3 audio file of this interview is available for broadcast from Dan Wooding at
danjuma1@aol.com
. When you request it, please give you name, media outlet and city and country where you are based.
Note: I would like to thank Robin Frost for transcribing this interview.