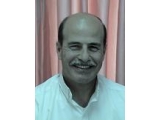 After the closure of another boys' home, Dr. Kakish re-established the Home of New Life. The lives of children in the Home of the New Life is full of love and care. In the morning the house father reads to them from the children's Bible and pray with them. Then they go to school in local schools in Ramallah. There are staff whose jobs are to clean the house, cook, and take care of the children's daily needs. There is also a tutor to help them in their studies on a daily basis.
The children attend local summer camps for children, have field trips in and out of the West Bank, and receive gifts and traditional sweets during holidays.
Financial support is provided through sponsors, churches and private donors. There is no financial assistance from the Palestinian National Authority or any other governmental agency. The Home of New Life puts light in the heart of children daily. The dream of the founder and the children is to build a home that provides a home for 30 boys and 30 girls.
Brief Biography about the founder of the Home of New Life, Dr. Munir Salim KaKish:
Dr. Kakish was born in the city of Salt in Jordan in 1947. Because of the death of his father, he was sent to a Christian's boys' home in the city of Ramallah in 1957. He then continued in school until he received the secondary certificate in 1964. He then travelled to the United States to attend college and obtained a B.S degree in theology and a B.A. degree in communications. In 1976 he obtained a master's degree in communications from Wheaton graduate school. In 2009 he earned and received his Dr. of ministry degree.
He returned in 1978 to Ramallah to work in another children's home until 1992. In addition to the management of the Home of New Life, Dr. Kakish pastors the churches in Ramallah and Ramla. Also participates in other community services. His efforts are dedicated to the service of the children of Palestine and assistance for them morally, spiritually, and for their physical needs.
The Home of New Life welcomes the voluntary contributions and other material donations to serve needs of the children in the home through networking and other sources of support. Your prayers and partnership is appreciated and needed.
Contact us to be involved in a worthy and much needed ministry.
Mission Field
Dr. Munir S. Kakish
P.O.Box 2077
Ramla - Israel
Tell Fax: 011-972-2-295-5101
Jawwal: 0598 235 305 Orange: 0545 392 484
US address
Ramallah Christian outreach
P.O.Box 2595
Baxter, MN 56425 2595
TEL: 847-495 -0643
E-mail: pastorkakish@hnlife.org
mskakish@hotmail.com