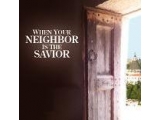 Life today in the holy land is very complicated.The ongoing Arab-Jewish conflict as well as the "holiness" of the land for different religions is just part of what really makes it complex.
Botrus Mansour is an Israeli Arab Palestinian Christian and Evangelical Baptist living in Nazareth. He is a lawyer in profession and serves today as the general director of the Nazareth Baptist School.

In his first book "When your neighbor is the Savior" published these days by Hope Publishing house in Pasadena California, Mr. Mansour brings forward his biography combined with a presentation of the calling, ministry and challenges of life as an Arab Christian in Israel.

The writer shares his personal story of faith and talks about the Christian calling as living stones in the home town of Jesus through witness. The writer explains the challenges that Christian Arabs in Israel face like wars, racism, bigotry and marginalization etc.

The writer also shares honestly about the role of the Christian minority in the east, the holocaust and he concludes with talk about the reconciliation that Christ has done.

The book aims to educate Christians abroad about challenges and complexities of the life of the Arab Christian in the home land of Jesus in a simple compelling story telling manner.

Rev. Dr. David Coffey, ex-president of the Baptist World Alliance says about the book: This inspiring book offers some deeply personal insights into the life of an Arab Israeli Palestinian Christian, giving us a deeper understanding of the complexities of being a Christian believer in the Middle East today.

Rev. Dr. Joel C. Hunter, senior pastor of Northland church in Orlando, Florida says: 2000 years later, what has become of the followers in the land where he walked? This compelling account of an almost forgotten group-Arab Christians in the holy Land- will help you understand the social, political and religious dynamics of life there.

Copies of the book can be obtained from Amazon at http://amzn.to/g1e4NK
or from
Nazareth Baptist School
P.O. Box 20, Nazareth 16100, Israel
Tel:04-6084406 Fax:04-6456386
Email: info@nbs.org.il
Price:15$ plus shipping expenses