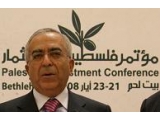 The prime minister of the Palestinian National Authority is underlining the "vital" need for a Christian presence in that region.
Salam Fayyad stated this today at the annual meeting of the Holy Land Coordination.
The coordination group, including bishops from Canada, England and Wales, France, Germany, Ireland, Italy, Spain, Switzerland and the United States, was set up in Jerusalem in 1998 at the request of the Holy See. It is organized by the bishops' conference of England and Wales.
The conference reported Fayyad's affirmation that "a vibrant Christian presence is vital for the future of a Palestinian state."
The prime minister reported that data from 2009 indicates that for the first time in years, more Palestinians -- including Christians -- are returning to that region than leaving.
"The trend is positive for the first time," he said.
Fayyad stated: "What is the Holy Land without Christians?
"How can we have Bethlehem without Christians? It would not be Bethlehem but something else and this is a high priority."
Improvements

He noted, "We are doing as much as we can to encourage people to stay and for those who have left to return," including "considerable improvements to civic society, governance and infrastructure."
The prime minister reported, "We have put 2,000 infrastructure projects in place and by making institutions more equitable, getting rid of corruption little by little we are maturing to look like a state."
"We must make the state a fact and when the bottom-up and top-down improvements converge then we will have a state," he added.
"If you get living conditions right then people will stay and we need a vibrant Christian presence in Palestine," the prime minister affirmed.
He told the bishops that the Palestinian Authority is eager to collaborate with the Church in education across that region, especially insofar as it teaches both Christians and Muslims to put aside discrimination.
Fayyad affirmed, "I read the Pope's message and I share his concern about intolerance in the Middle East."
"We are very disturbed at the recent terrorism against Christians in both Iraq and Egypt and we must speak out on this issue," he added. "Not all countries of the Middle East are the same and we have a long tradition of coexistence in this land."
The prime minister affirmed, "Freedom of religion is essential and that requires tolerance and respect."