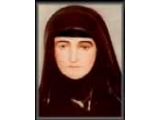 JREBTA, Lebanon (AP) ? Driven by faith and pride, thousands of Lebanese Christians flocked to the tomb of a 19th-century Maronite Catholic nun who was elevated to sainthood Sunday.
Pope John Paul II, who had beatified Sister Rafqa in 1985, bestowed sainthood on her with four others at the Vatican.
In the pine-wooded hills of northern Lebanon over the past week, tens of thousands of Christians have been making the pilgrimage to Sister Rafqa's tomb at St. Joseph Monastery.
Along the winding road leading to the site, children, old men and women and young mothers with infants in their arms abandoned their cars to trek a mile uphill under a scorching sun to the cloister.
``I came to pray and ask for God's mercy for everybody,'' said Lara Habib, 20, who drove from Beirut, 30 miles to the south.
Some in the narrow, crowded cloister were overcome by emotion. Others quietly prayed.
Jeanette Barakat, 47, claimed she saw a vision of the saint in the cloister Sunday.
At the Vatican ceremony, Pope John Paul II touched on current events pitting Arabs against Israelis in the Middle East.
``May Saint Rafqa watch after those who know suffering, in particular those people of the Middle East confronted with the destructive and sterile spiral of violence! By her intercession, we ask the Lord to open hearts in the patient search for new paths for peace, hastening the days of reconciliation and harmony,'' the pope said.
Lebanon's first lady, Andre Lahoud, led the Lebanese delegation to the Vatican ceremony. Lebanon's top leaders ? the president, prime minister and Parliament speaker ? as well as many politicians were in neighboring Syria, the main power broker in this country, marking the first anniversary of the death of Hafez Assad, Syria's longtime leader and father of the current president, Bashar.
Sister Rafqa joins two other Catholic holy figures from this largely Muslim country. Ascetic monk Charbel Makhlouf was made a saint in 1977 and monk Naamatallah Hardini was beatified by the pope in 1998.
Born Butrosiya Choboq Ar-Rayes on June 29, 1832, at Hemlaya in northern Lebanon's mountains, Sister Rafqa began working as a housemaid in Syria at the age seven after her mother's death.
She said her vows at 24 and later adopted her mother's name, Rafqa. She died at the monastery on March 23, 1914, after spending the last two decades of her life blind, crippled and unable to talk.
The Maronite Church, Lebanon's largest Christian sect and the Middle East's main Catholic community, attributes dozens of miracles to Sister Rafqa. But the case that the Vatican finally accepted as befitting sainthood was that of Celine Sami Rbeiz.
Celine's mother, Raymonda, said in a TV interview Saturday that her daughter suffered from terminal cancer of the kidneys and liver when she was 2 1/2 .
``At the behest of relatives and neighbors, I force fed her a pinch of earth from Rafqa's tomb in a milk pudding. The next day, instead of dying, she walked and started eating again,'' she said.
Celine, now 18, sat beside her mother during the interview. Celine said she remembers nothing.
Celine was believed to be among the hundreds of Lebanese Christians who traveled to the Vatican from spots worldwide to see one of their own made saint.