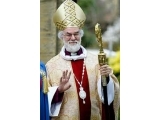 [Ecumenical News International] "We cannot wait for politicians to sort things out, we have got to make a difference ourselves," the Archbishop of Canterbury, Rowan Williams, told reporters at the conclusion of a two-day conference at Lambeth Palace on "Christians in the Holy Land," which he jointly hosted with Archbishop Vincent Nichols, the leader of the Roman Catholic Church in England and Wales.
The meeting, which was attended by more than 60 Christian, Jewish and Muslim faith leaders and politicians from the Middle East, Europe and North America as well as young Palestinian Christians, had been called to consider the decline in the Christian population in the Holy Land and how these communities could be assisted to remain.
Williams called for more backing for work undertaken by the ecumenical charity Friends of the Holy Land, which finances projects to assist the 200,000 Christians living mainly in Israel and the West Bank -- about one per cent of the population -- to stay in the region and not join the rising numbers emigrating. The charity works in the field of housing, micro finance, the distribution of food and clothing and hosting pilgrimages by overseas visitors involving links with local communities.
Nichols stressed that the young Palestinian Christians attending the conference did not want to be seen as victims but as actors in history with a strong sense of dignity.
Earlier at a session of the Church of England Synod held last week, Williams launched a fund to be administered by Friends of the Holy Land from which it is hoped to derive a regular income for projects to be established with partners in the region. He said that he had returned from a recent visit with a strong sense that more had to be done for "brothers and sisters who are suffering and for whom we don't always ask ourselves what our response needs to be."