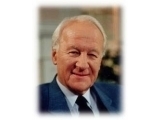 From BBC

The Rev John Stott, who helped lead a resurgence of evangelicalism in Britain, has died at the age of 90.

US preacher Billy Graham paid tribute to him, saying the evangelical world had lost one of its greatest spokesmen.

Dr Stott's wide-ranging influence came partly from more than 50 books which helped to explain complex theology in a way lay people could easily understand.

The BBC's Robert Pigott said Dr Stott was good at simply expressing "the complexities of theology".

Our religious affairs correspondent said: "Some regarded this key figure in a traditionalist branch of Protestantism, with its emphasis on winning souls for Christianity, as a kind of 'Protestant pope'."

Seen as a leading figure in promoting evangelical churches in the developing world, Dr Stott did not become as well known as some other leading evangelists.

He played a critical role as a Christian thinker, helping to revive evangelicalism in England after World War II at a time when this traditionalist Protestant branch of Christianity had lost almost all its influence and its followers were widely derided as uneducated.

Born to an agnostic father and a Lutheran mother, Dr Stott was ordained a minister in the Church of England.

He gained popularity as a preacher, stressing the need for social responsibility.

In 1974 Dr Stott was one of the principal authors of the Lausanne Covenant, which laid out the beliefs on which evangelicalism was built into a worldwide movement.

However, it was his success in decoding the complexities of theology for lay people for which he will be best remembered.

Billy Graham described Dr Stott as a "friend and advisor" and said he looked forward to meeting him in heaven.


Yohanna Katanacho Academic Dean of Bethlehem Bible College and Galilee Bible College, sends his condolences to the family, friends, and students of John Stott. Rev. Dr. Stott has influenced my life not only through providing a scholarship for my PhD at Trinity International University but also through the time that we spent together. Through his preaching, writings, and time of prayer, I saw a godly man in the twenty first century. He demonstrated humility, wisdom, and faith. I thank God for the honor of getting to know him and serving the Lord with him in Washington D. C. few years ago. Uncle John (as we used to call him), I will surely miss you but I will never forget you.