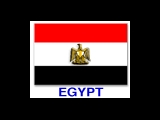 Cairo - Calm was restored to Cairo's streets Monday after eight policemen were hurt in clashes with thousands of Christians protesting against a graphic news story of a monk's alleged sexual relations with a married woman.
Between 3000 and 4000 Coptic Christians had gathered at the main cathedral in Cairo late on Sunday, with many clashing with police when they tried to take their protest to the streets.
Six policemen, including three officers, were treated at the scene after being hit by bricks and other projectiles. It was not clear if any were hospitalised.
Calm was restored by both the police, who arranged for people to leave the Cathedral in small groups, and Pope Shenuda III, the head of Egypt's minority Christian community who arrived on the scene to urge calm.
Dozens of riot police and around 200 Christians lingered at the scene well after midnight. There were no reports of any arrests.
The newsweekly Al-Nabaa published the controversial story which sparked the trouble, carrying front-page pictures of a bearded man, whom it described as a monk, in a compromising position with a woman.
Police said they had confiscated all copies of the publication on court orders.
The church released a statement saying the monk attacked in the article had been expelled five years ago from a monastery in the southern city of Asyut for "abandoning the traditions of the church and monasticism".
It did not spell out what he had done and Pope Shenuda told an angry crowd later that the church would file a libel suit against the newspaper.
"There must be legal proceedings," the pope told a crowd of 200 people within the cathedral compound.
Many of the protestors demanded the newspaper be banned permanently.
George Wagdi, 29, told AFP that the news article "was against all Christianity and all Christians. Muslims shame us. They completely hurt our pride and honour."
The Copts, who the government says account for six percent of Egypt's 65 million people, complain the government discriminates against them in the state bureaucracy, police and army, education system, and other areas.
According to the Coptic church, the Christian minority numbers more than 10 million. - Sapa-AFP