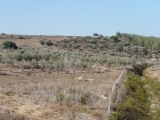 Nazareth Baptist School (NBS) and Friends of Nazareth (FON) are launching the fundraising campaign for the relocation project with daily prayer all through the month of September.
A daily devotion written by one of the members associated to NBS or FON will be sent daily to all friends of School with a call for prayer.
Friends of Nazareth is an organization headed by Rev. Dr. Dick Thomassian , stationed in Huntsville Alabama with a tax exempt status and supporting NBS in the new project.
Hereby is the personal letter sent to friends of NBS:
Dear Friends of Nazareth Baptist School,

The excitement continues to mount as we witness the hand of God at work. He is up to something that nobody else can do. The Nazareth Baptist School project (relocate the school to a new planned community area in Nazareth) is a miracle waiting to happen. Fasten your seat belt; the fund-raising campaign is on the launching pad. We are trusting God to provide $3,315,000 by December 2012. These funds (Phase 1) will be used to secure the land and prepare for the construction phases. We trust that Phases 2 and 3 will be completed by December 2016.

Faith is the key and prayer will open the door. September 2011 is the month of intensive prayer. Each day in September you will receive in your email a heart-stirring devotional thought and prayer requests.

Please join the many others in intensive prayer to our Heavenly Father. The prayer-chain will multiply rapidly if churches will release the Prayer Guide through their Facebook pages and individuals will forward the Guides. Prayer moves the heart of God. Invite others to pray.

If you would like to join the Friends of Nazareth team, please contact the FON office at fon@timeministries.com. If you would like to journey to the Land of our Lord as a participant in a Christian Bible Land Seminar, please contact the FON office or visit www.timeministries.com. The Seminar includes multiple days in Galilee and a special visit to the Nazareth Baptist School. Everyone is welcome.

The Nazareth Baptist School shoulders the greatest responsibility of any evangelical group for keeping the gospel alive in the Holy Land. Twenty-five percent of the 1000 member student body is Muslim; yet, they receive daily Bible classes and attend chapel. The parents willingly agree to this academic requirement so that their children will receive a distinctive education. Your financial investment in the NBS project is welcomed, appreciated and most importantly, it is necessary to help NBS maintain their standards of excellence and accommodate more students.

Nazareth Baptist School: Unapologetically Christian; Unashamedly Bible Believing; and Uncompromisingly Academically Excellent!

Dick Thomassian

FON Executive Director