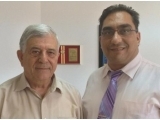 The board of Bethlehem Bible College is pleased to announce the appointment of Rev. Jack Sara as incoming President effective September 1, 2012.
Jack studied at Bethlehem Bible College and earned his Bachelor of Arts degree in Biblical Studies in 1994. He earned his Master of Divinity degree from Alliance Biblical Seminary in Manila, Philippines in 1998. He is currently enrolled in the Doctor of Ministry distance learning program at Gordon-Conwell Theological Seminary in Boston.
Jack served as senior pastor of the Christian and Missionary Alliance Church in Jerusalem from 1999 to 2012. He taught part time at Bethlehem Bible College for several years, and held the position of Vice President during the 2011–2012 academic year.
Jack and his wife, Madleine, were married on July 25, 1999. They have three children: Nathan, age 10, Maranatha, age 7, and Mickel, age 5. Madleine earned her Master of Arts degree in Christian Counseling and teaches at Bethlehem Bible College.
The board is confident that Jack has the qualifications and expertise to lead Bethlehem Bible College well in this challenging position.
He succeeds Bishara Awad who will serve as President Emeritus.