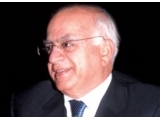 Dr. Martin Accad, Director of the Institute of Middle East Studies in Beirut - Lebanon writes: This is a powerful lament by a Muslim over the fate of Christians in the Middle East. Or more accurately, it is a lament over the fate of Muslims after Christians leave the ME...
I have taken the pains of translating it quickly (informally) into English for the sake of English readers. I have deep respect for this kind of writing, not because it glorifies Christians and their contribution to the ME region, but because it humbles me, as an Arab Christian, that a Muslim writer would be willing to attribute so much to ME Christians. I am also posting it because I know that Sarraf's piece reflects the feelings of a vast majority of Muslims in the region over the fate of Christians in Iraq and elsewhere. So my English translation is a tribute to my Muslim friends:

"O Christians, get out of our lands!" (an article written by Ahmad Sarraf that first appeared in Al-Qabas newspaper on 21/07/2014 – this translation by Martin Accad is not an official translation and was done for the sole purpose of sharing on FaceBook)

Get out, O Christians of Damascus, Yabroud and Maaloula, from our lands. Get out, O Christians of Mosul, Niniveh and Baghdad, from our countries. Get out, O Christians of Lebanon, from our mountains and valleys. Get out, O Christians of Palestine and the Arabian peninsula, from our coasts and sands. Get out, all of you, from under our skins. Get out, all of you, for we hate you and don't want you among us. Get out, for we have grown tired of progress, civilization, openness, tolerance, love, brotherliness, coexistence, and forgiveness! Get out, so that we would dedicate ourselves to killing one another. Get out, for you are not a part of us, nor are we a part of you. Get out, for we are tired of you being the original inhabitants of Egypt, Iraq, Syria and Palestine. Get out, so that we would feel no shame when our eyes meet yours as you wonder what has happened. Get out, and abandon us to our disastrous situation, for you have people who will welcome you and we will remain here, far from you, far from your claims, your gifts, your competencies, your knowledge and expertise. Get out, and leave us to fanaticism, vengeance and hatred. Get out, for we can no more suffer your claims to civilization. When you get out, we will be able to focus on dealing a final blow to civilization, to wiping out its remains, breaking what your ancestors have left of idols, relics, archaeological remains, poetry, prose and literature. Get out, for neither Iraq, nor Egypt, Syria, Kuwait, Palestine, Jordan or beautiful North Africa, are in need of you. Nor do we need any of those who have resided among us before you of gypsies and Jews and stones. Go! Get out! Take mercy with you! For after the Nusra Front and ISIS and al-Qaeda, and what remains of the Muslim Brotherhood's thugs and their latest products, we have no need for mercy or compassion anymore. For blood will be spilled and violence will spread, and hearts will be cut into pieces and livers eaten up and tongues will be cut off and necks severed and knees shall succumb. We shall return to ancient medicine and to treatment with herbs. We shall go back to reading ancient books and practicing superstition by seeking our fortunes in the coastal sands.
Get out, O our Christians and take with you all what remains of the relics of Gibran K Gibran, Sargoun Boulos, Badawi al-Jabal, Anastasius the Carmelite, Youssef al-Saegh, Saadi al-Maleh, and the sons of Tekla, Yazigi, Boustani and al-Akhtal al-Saghir. Take also with you your universities and hospitals, close down your mission centers. Nor do we even need Mikhail Naaimeh. And don't forget (to take away) May Ziadeh and the sons of Maalouf and Sarrouf, and the sons of Ghali, Zaydan, Khazen, Bustros, Thabet, and Sakakini. For all of these are not a part of us nor are we a part of them.
Yes! Get away from us! For we want to return to our deserts. We miss our swords and sands and livestock. We have no use of you or your civilization. Nor do we need your linguistic and poetic contributions. For we have enough murderous and blood-spilling gangs as substitutes for you.
Get away from us, O Christians, with your culture. For we have replaced it with the culture of grave-digging!