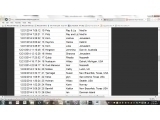 To the Body of Christ in Israel and Palestine
Statement from Women in Ministry Group
We are a group of concerned women who serve in various ministries in Israel and Palestine. Following the painful events of the summer and the ongoing unrest in our region, with this brief statement, we wish to declare our:
1. Commitment to the unity of the Body of Messiah in Israel and Palestine
2. Choice to embrace one another as brothers and sisters in Christ regardless of ethnic, political, theological or any other differences
3. Faithfulness to follow the ways of the cross and the kingdom of God in our relationships with one another
4. Rejection of all forms of discrimination
5. Denunciation of the use of violent, hostile language in public statements, blogs or posts
6. Refusal to speak badly of one another's communities
7. Rejection of simplistic use of scripture to justify the decisions and actions of our governments
8. Firm intention to continue speaking out on issues that affect our peoples
9. Sympathy for the bereaved families of all victims of war and terrorism and sorrow for the loss of each life
In light of the above, we commit ourselves to speak truth in love; to pray, support and honor one another as equal members of the body of Christ, regardless of ethnic backgrounds or nationalities; to be advocates for justice, equality and peace and to bear corporate witness to the resurrected Messiah.
Signed:
Shireen Awad, Bethlehem Bible College
Ira Ben-Chaim, Beit Asaph Congreration, Netanya
Angela Hersch, Light to Israel
Dina Katanacho, Israeli Arab Bible Society
Lisa Loden, Israel Firstfruits Center
Madlyne Sara, Bethlehem Bible College
Rasha Saba, Fellowship of Christian Students in Israel, Nazareth
Samar Tanous, Assemblies of God Church, Haifa
Shadia Qubti, Musalaha
To endorse this document, click here