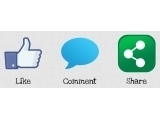 ~~Has this ever happened to you:
You come across an article or a news report, and all you want is to respond?
This happens to me at least once a day. I feel showered with random articles. Some of them make me amazed of how creative humanity is, some make me see how uncreative I am, and some make me wish I never saw them from the first place. And then there are those articles that just push all my buttons. And when this happens, my immediate instinct is to express my reaction to it. This was done either by sharing an article with a comment or two from me.
Looking back in retrospect, I used to be more lenient with my willingness to share articles. After all, it is only a button away. However, and probably to some degree due to the excessive use of such method during war times, I have become more hesitant to do so. Social media is not a forum for a conversation but rather a source of misunderstandings and emotional gags.
The way I see it, if I share the article, in some way I am advocating what is being said. I am either agreeing to its content or disagreeing with its content, and see the need to expose it to others.
More importantly, when I share and talk about an article, I am drawing more attention to it! I am giving it publicity, and for free! I see that now and see the need to think twice. As a consumer of social media, I have the power to influence others around me. This is a responsibility not to be taken lightly.
My new revelation: choose your articles wisely, because you are what you share