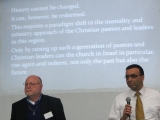 Can anything good come out of Nazareth? Nathanael asked him. Come and see, Philip answered (John 1:46). In a conference held by Nazareth Evangelical College and sponsored/blessed by European Baptist Federation, American Baptist Churches USA, Baptist Mission Society UK, and the Association of Baptist Churches in Israel, 60 local and international Christian leaders met in Nazareth, the hometown of Jesus, in order to discuss the contributions as well as challenges of Evangelicals to Peacemaking. The international speakers addressed the global dimension of Evangelicals and peacemaking while the local participants affirmed the contributions as well as challenges of Palestinian Christian citizens in Israel.
The conference participants highlighted the following:
(1) Evangelicals are called to engage all aspects of culture including politics.
(2) Although the history of peacemaking among Palestinian Evangelical in Israel has been limited to affirming peace with God, it is also important to equally uphold peace with our neighbors.
(3) Peacemaking has to be rooted in justice and equality. Its aim needs to be reconciliation.
(4) Palestinian Refugees, Palestinians in the West-Bank and Gaza, as well as Palestinian citizens of Israel are one people. However, the latter group needs visibility in the international community and needs to be empowered to fulfill their calling as peacemakers.
(5) Political and social evangelical peacemaking has to be rooted in the logic of biblical love, justice, and equality aiming at reconciliation with God and between people.
(6) Palestinian citizens of Israel need to seek a state for all of its citizens and speak out and act nonviolently against any system that makes them second class citizens.
(7) Evangelicals need to rediscover the power of following the prince of peace and highlight peacemaking in their theological identity.
(8) Palestinian Evangelicals in Israel need to increase their contribution to the unity of the church within their church family and with other church families.
In short, the conference speakers addressed the history of evangelical peacemaking, the contemporary challenges, and finished with the future of evangelical peacemaking. It also ended with a communion affirming the centrality of the Christ event and the embodiment of peace in Jesus. They went out of Nazareth, the hometown of Jesus, as peacemakers empowered by the peace of God.
The Speakers according to the order of their presentation in the Conference were:
Dr. Salim Munayer, Director/Founder of Musalaha and professor at Nazareth Evangelical College
Rev. Dr. Roy Medley, General Secretary of American Baptist Churches USA
Rev. Azar Ajaj (PhD Candidate), Director of Public Relations and Professor at Nazareth Evangelical College
Mr. Botrus Mansour (Lawyer), General Director of Nazareth Baptist School
Mr. Joakim Wohlfeil, Policy Officer for Conflict and Justice for the Swedish NGO Diakonia
Miss Shadia Qubti, Projects and Youth Department Manager at Musalaha.
Rev. Dr. Yohanna Katanacho, Team Leader of Nazareth Evangelical College and Academic Dean of Bethlehem Bible College
Rev. David Coffey, Global Ambassador for Baptist Mission Society in the UK
Mrs. Rula Khoury Mansour (PhD Candidate), Director of Peace Studies at Nazareth Evangelical College