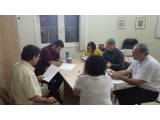 An unprecedented encounter of Arab Evangelicals and Jewish Reform Jews was held on Monday the 13th in the Nazareth Evangelical College in Nazareth.
The meeting was opened by Rev. Azar Ajaj from NEC who welcomed the guests to be followed by Rabbi Our Zohar from Ma'alot Tivo'un Reformed synagogue with opening remarks..
Then Rev. A'zar A'jaj, Rev. Dr. Yohanna Katanacho and advocate Botrus Mansour shared with the guests about Evangelical Christianity as well as the history and vision of the college. Rabbi Zohar then shared about the history and doctrine of Reformed Judaism.
After a round of introduction by each one of the participants the attendees were divided to groups and they studied together Psalms and looked into different interpretations and reflections of different verses in Psalms.
Both groups concluded the pleasant evening with positive feedback and unanimous consent that such inter-faith meetings should continue.