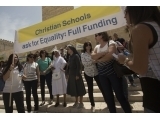 The office of Christian schools in Israel (OCSI) issued a statement today the 28th of July stating that the Ministry of Education (MOE) has in the last few days been taking new unilateral steps against the schools.

The Christian schools have been suffering from severe budget cuts in the last few years . According to a research by the Knesset research center- the sum that Christian schools receive from the MOE is 34% only of the cost in similar public schools when the initial arrangement was that it should be 60-75%! As a result, the Christian schools had to raise the tuition way beyond the financial ability of most parents in the 48 Christian schools in Israel.

In March 2014 the MOE issued new regulations that restricted the Christian school's authority to collect tuition. According to these regulations, The sums that the schools will be allowed to collect (about half what was raised before the regulations) - will not be sufficient for the regular operation of the Christian schools. They will bring about a serious deficit in each one of the Christian schools- a deficit that will not allow these schools to continue.

After a threat not to open the school year 2014/2015 ,the OCSI and MOE held negotiations for 8 months. The condition for these negotiations was that these regulations will not be implemented. In these negotiations- the MOE suggested that the Christian schools become Christian public schools or move to a new category of "special schools" that will be allowed to collect tuition up to about 7000 Shekel a year. Both proposals were rejected by the OCSI and an unprecedented demonstration* was held in Jerusalem on the 27th of May 2015 led by 5 Catholic Bishops and tens of clergymen and nuns as well as 9 members of Knesset, teachers, workers and parents in these Christian schools.

Nevertheless , the OCSI kept the door open for continual of negotiations and also requested a meeting with the new minister of Education Mr. Naftali Benet. These requests were never met. On the contrary, and as the press release issued today by the OCSI states, the ministry of Education has sent letters to several Christian schools in the last few days threatening not to issue a permit to open their doors if these schools continue to collect tuition with sums that contradict the new regulations.
The Office of Christian Schools ends the press release by stating that it will take protest actions against these unilateral actions that threaten to shut down the Christian schools in Israel - actions that will be announced soon.



*http://www.comeandsee.com/view.php?sid=1282