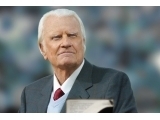 Rev. Dr. Billy Graham went to be with the Lord today. He was 99 years of age.
God used this man of God in the 20th century to preach the Gospel to hundreds of Millions of people in the USA and around the world including in Israel in 1960. Among other things he also contributed to opening doors for the Gospel around the world, establishing "Christianity Today" and the 'Lausanne movement for missions'.
As Evangelicals we celebrate his rich life in the service of the master trusting that the example of his life will remain to be a source of inspiration to all those who love the Lord Jesus. We comfort ourselves and comfort you that Billy Graham is in a better place with the Lord Jesus who will hand him the crown and tell him "you were faithful until death and I will give you the crown of life".
Council of the Synod of Evangelical Churches in Israel