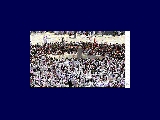 Thirty-five Muslim pilgrims have been killed in a stampede as the annual Muslim pilgrimage, the Hajj, reached its climax.
They died during the Stoning of Satan ritual on Monday, near the holy city of Mecca in Saudi Arabia, state-run Saudi television reported.
It is the latest in a series of disasters to strike the pilgrimage: In 1998, at least 118 people died and more than 180 were injured in a stampede during the third and last day of the stoning ceremony.
'Heavy congestion'
Tens of thousands of pilgrims from 160 countries took part in the ritual, which marks the first day of the Islamic feast of Al-Adha (sacrifice).
Men dressed in seamless white robes and women covered from head to foot each cast seven pebbles at the columns.
"Because of heavy congestion and jostling between pilgrims, many pilgrims, especially the elderly, tripped and fell, leading to the deaths of 35 pilgrims of different nationalities," a civil defence official said.
The Saudi authorities put security measures in place after previous disasters
"Some of them suffocated to death while others were trampled before security forces restored order."
He said the tragedy occurred at around 0800 (0500 GMT).
Since the last disaster, the Saudi authorities have spent hundreds of millions of dollars on safety precautions.
They have constructed tens of thousands of fireproof tents and introduced ways of staggering the flow of pilgrims through certain congested areas.
Forgiveness
This year nearly two million pilgrims are performing the Hajj, somewhat fewer than last year.
Performing the Hajj at least once in a lifetime is one of the five "pillars", or duties, of Islam.
As part of measures to avoid a crush, elderly pilgrims had a head start Sunday night on the stoning ritual.
Earlier on Sunday, some 1.8 million faithful had climbed Mount Arafat - the site of Muhammad's last sermon 14 centuries ago - to pray for forgiveness.
Like Muslims around the world, the pilgrims also slaughter sheep, goats, camels and cattle for the start of the feast of Al-Adha to mark Abraham's willingness to sacrifice his son for God.