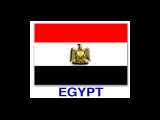 An Egyptian court has ruled that 92 men acquitted over a massacre that left 20 Christians and a Muslim dead, and four who were jailed only on lesser charges, must face a retrial.
All 96, who were tried in February, were ordered to appear again before a court in the southern city of Sohag, just north of Kosheh, where the massacre occurred on January 2, 2000.
The cassation court, which rules on the technical aspects of a case and whose scope falls short of that of an appeals court, said it would set the date for the new trial in one week.
A Coptic Christian lawyer involved in the case as well as the director of the Cairo-based Word Centre for Human Rights, welcomed the ruling as restoring trust in the Egyptian justice system and law and an opportunity to submit new evidence against the accused.
Egypt's Coptic Christian clerics had denounced the verdict of the first trial as sending a signal for the country's Muslim majority to kill Christians.