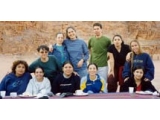 Musalaha, a ministry of reconciliation in the Holy Land, had cooperated with the Danish church youth movement for the last two years. The Danish movement had sent three volunteers to help in the Musalaha office , and had contributed towards the Musalaha student desert trips and activities. Because of this relationship, Musalaha has been able to expand it's work with university students and young adults. Now, the Danish have invited two young adults, one Palestinian and one Israeli, to visit Denmark for a month and share about Musalaha and believers in the Land.
Ranaa Barhoum is from Shfaram, an Arab town in the north of Israel. She studies behavioural science at university. She is very involved in the leadership of the Fellowship of Evangelical Christian Students in Israel (FCSI), and also in the ministry of her parents who operate the House of Light, a ministry of healing broken families.
From the other side stands Tamar Powlison, who was born in Jerusalem to a Messianic Jewish family. She recently completed her course in missionary aviation at Prairie Bible College in Canada. Both Tamar and Ranaa attended a Desert Encounter to Wadi Rum, Jordan in 1999. They will travel and speak to Danish young people in September.
Check Musahala web site at www.musalaha.org