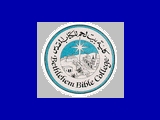 The Bethlehem Bible College issued the following statement:
For we know not what we should pray for as we ought; but the Spirit itself maketh intercessions for us with groanings which cannot be uttered." Romans 8:26
"What can we say except that we are completely shocked at the horrible, horrible events that have taken place in your beautiful country. We at Bethlehem Bible College feel your pain and wish for you to know that we are praying for you.
Numerous Palestinian churches are holding special prayers this morning for all those suffering and mourning in the wake of this unthinkable tragedy. What happened is utterly evil, incomprehensible, beyond belief or understanding.
Despite the terrible pain this event caused and will yet cause, we pray that something good will come out of this tragedy, and that America with its people and its government will look up to God and submit to Him. We pray that God will give America and Americans wisdom from above to cope with this act in all its horror.
People the world over must pray that no more innocent people anywhere will suffer. We must pray together for healing and reconciliation.
Some Palestinians, out of frustration and in particular those whose homes have been bombarded by missiles and tank shells, reacted inappropriately. But I am so glad that all Palestinian factions, including Hamas, have denounced this act for what it is: an act of unspeakable terror. We urge American citizens and politicians to refrain from speaking or acting in a way which would increase or intensify the pain and suffering. The time to acknowledge our common humanity and fellowship under God is now.
In Christ's Name,
Bishara Awad & the faculty and staff
Bethlehem Bible College