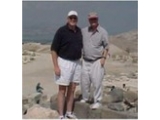 AMMAN, JORDAN (ANS) - Jordanian people are in a state of shock and disbelief as they have huddled around TV screens during the past few days watching the terrible scenes of the terror attack in New York and Washington which one Jordanian newspaper called "Witnessing Armageddon."
As I have toured Jordan over the past week with a team of 28 American Christian leaders and journalists, we have been overwhelmed with messages of good will and condolences to the American people. At every place we have visited, each one of us have had people ask us if were from America and when they discovered we were, they have expressed their sorrow over what has happened.
One told me, "I love America. This is a terrible attack on your great country. Please accept my condolences on behalf of my people in Jordan."
The Jordanian government has condemned the criminal attacks against the United States facilities. The Minister of Information Saleh Al Qallab said, "We sympathize with the American people in this tragedy and express our deep condolences to them."
King Abdullah II cut his official working visit to the United States and returned to Jordan on Wednesday, September 12. The King was due to meet US President George W. Bush on September 20. The meeting was supposed to tackle the explosive situation in the Middle East.
King Abdullah was invited to take part in the opening of an UN conference on childhood in New York in addition to a working tour of various American states.
The leadership of the Jordanian Army has now held an emergency meeting to discuss the possible consequences of the terror attacks against American targets.
In April, King Abdullah II went to Washington, DC., to share with a small group of pastors about the history, beauty and safety of his country, and invited them to come and visit. Our trip is an extension of that invitation.
Our team has been hit by the situation. We were due to leave on Sunday, September 16, but the airline, like so many around the world, does not know when it can fly back to America.
So, in the meantime, it allows us to see more of Jordan's major 200 biblical sites from both the Old and New Testament.