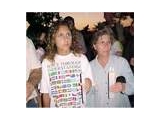 AMMAN AND NEW YORK (ANS) - American Christians joined with nearly 500 Jordanian Christians and Muslims in lighting candles for peace at a special candlelight remembrance service in Amman on Sunday, September 16, to show solidarity with the victims and their families of the New York and Washington terrorists attacks on the World Trade Center and the Pentagon.
Gathering at Amman Citadel, Muslims clerics united with Christian priests and ministers from the various Christian communities in Jordan, as well the Lord Mayor of Amman in condemning the violence in the United States and praying for the families of the victims.
Father Nabil Haddad was one of those that led prayers. He is from the Melkite Catholic Church in Amman. Melkites is a name given in the 5th century to the Christians of the patriarchates of Jerusalem, Alexandria, and Antioch. He asked God to help join the people of the United States with the people of Jordan in this special prayer service. He went on to say, "Heavenly father, you alone have the power to bring good out of evil. We ask you to guide the hands of all leaders and decision makers who are responding to this crisis at this very moment.
Also participating was Sheik Imad Chaehiv from the Islamic Education Center in Amman, who said that he had lived for 15 years in the United States.
In an interview, he told me, "I can't tell you how depressed I have been since this happened. I was so upset and sad. I have my family here with me and my wife was crying the whole day. I really can't express how sorry I feel for this. We condemn these actions. This is not the real Muslims that are doing something like this. This is not what the picture of the Muslims should be."
When asked what he thought about the Taliban in Afghanistan, he stated, "We do not support the Taliban at all. We do not feel their word is the word of all Muslims. We are against terrorism and we are against fundamentalism and hopefully, this is not an idea of Americans have about Muslims and Arabs as a whole."
Standing with the Muslim Sheik was Rev. Samuel Abu-Aber, a pastor at the Assemblies of God church in Amman. He said, "Our message today to the whole world is a message of love. We felt so much sorrow for what happened in the United States and we saw how many people were weeping and we felt the sorrow of the loved ones and we are united with them in their sorrow and we pray that God can bring to them peace and that so many people in the future will realize that we are all from the same roots. We are all the descendents of Abraham and our message is that of love and peace."
A MESSAGE FROM THE LORD MAYOR OF AMMAN
I then spoke with Nidal Barjas Alhadid, the Lord Mayor of Amman, who said, "We share with you the feelings of anger, grief and sadness, for all that happened in the cities of New York and Washington, DC. The attacks on innocent souls made all of us very unhappy and very sad. This is the kind of act that cannot be done by any human being. There must be some steps taken to controls such acts and such terrorist organizations. I'd like to say that I also like to send my condolences to the families of the victims and pray that their souls will rest in peace."
When asked what he had to say to people who may now be afraid to visit Jordan, he said, "Jordan is a very friendly country with very friendly people. You can see from the turn out tonight how people here feel about the American people. People from all over the world are always welcome to come to the city of Amman and the Jordan in general."
Ruth Cox Mizell, Congressional Liaison for Capitol Hill Prayer Partners and White House Liaison for American Christian Trust, was one of our team and she attended the candlelight service. Ruth, who is the widow of baseball great "Vinegar Bend" Mizell, said, "I really appreciated their caring for us. They really cared about what happened in New York and at the Pentagon. Everyone was so mournful when they told us how sorry they were about what happened. I have really come to love the Jordanian people."
After the service, the team of 28 Christian journalists and Christian leaders who had been touring some of the country's 200 biblical sites at the invitation of the Jordan Tourism Board, of which I was a part, headed for Amman Airport, to fly back to New York on Royal Jordanian Airlines on what turned out to be the first flight from an Arab Country. Security was tight and we understood that several armed marshals were on the flight.
When we arrived at JFK Airport, a bevy of armed FBI agents and other security met us. Like many, I couldn't catch the flight I was booked on and so had to find another airline to get back to Southern California. As we took off, I could see the pall of smoke rising form what was the Twin Towers of the World Trade Center.
Like all of you, I will never forget what has happened to our world over the past few days. It is heartening to know that so many from around the world are standing with the American people in love and solidarity and like our friends in Jordan, are lighting symbolic candles for peace.