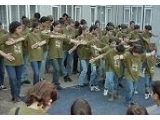 ?This was a successful, life changing, renewing, refreshing and amazing experience.?
?The Lord has done a splendid work in our lives all through this camp.?
The following is just part of what the participants on the Romania camp shared with us.
Boot Camp
The camp started by a six days of boot camp at an orphanage in Lipova, where the team had Bible studies, devotions, workshops, games and of course choreographies, dramas and different lessons on how to evangelize. After these full days of teaching and building up the team?s relationship with each other - and with God, the kids moved on to the second part of their camp?.
Outreach
Nine days of outreach were spent at a town called Babadag, with a population of 12000 people, 56% of whom are Muslim. The team had a chance to go to the streets and invite people to come and watch them perform at a small, revived and lovely church in that town.
According to Rajaa? Barhoum, choreographer of the Israeli team tells the story: ?We were surprised, yet delighted, to see how many of the people we invited actually responded to the invitation, we praise the Lord for using us so greatly amongst the audience, Romanian and Turkish, most of which are gypsies, hungry physically and spiritually, and we pray that all that they?ve heard would be a seed planted in their hearts that the Lord will water and make it flourish.?
Performances
The King?s Kids concert included 10 choreographies and 3 pantomimes together with a special program for kids.
Volunteering:
The team got a chance to go to the public park in Babadag and help clean it. They also prayed for the mayor of Babadag as he is an atheist communist and has never experienced God?s true love, and also spoke to a few people they met there and told them about Jesus? love.
According to Anis Barhoum, from the House of Light ministry: ?This was a great lesson for all of us, to be humble, take the brooms and sweep the whole park, making sure everything is well done.?
The Team:
The team had 51 members : the Israeli team, 27 members and the Romanian team consisted of 24. There were around 19 leaders, one of which is the King's Kids coordinator in Israel, Claudia Carlson (together with her baby, who is due to be born in November :)
?The teams bonded in a great and surprising way, and you could see that at the first meal together and more clearly at the time of farewell in Bucharest? according to one of the participants. ?Saying goodbye was really sad. Youth, kids and adults were crying and trying to express their gratitude towards each other and towards the Lord for giving them a chance to meet such amazing people and spend a great time together.?
Special Evenings
Since the team was of 3-5 different backgrounds, they each got a chance to do few things in their different cultures and therefore special evenings were spent with an Arabic wedding, Arabic food and sweets, another with Jewish hora and a kiddush, and a third with Romanian costume and Romanian folk dances.
One of the kids shared: ?It was a very enlightening experience and helped us realize the differences between us all yet praise the Lord for His gift that makes us one.?
According to Nawal Barhom, from the House of Light ministry: ?As an all in all impression, We can only say, WOW...The Lord has revealed His greatness, His tenderness, His protection, and His love through everything we did, everywhere we went, all those we met and through the way He provided all the spiritual and financial support at anytime and any place.?
Thank you:
The team would like to thank everyone for their prayers, Rajaa? shares : ?We could always feel God?s presence, We know for a fact, that this camp has pleased the heart of God and that the angels are singing and dancing together with us, joyous and thrilled to bring those in darkness to the source of Light, Jesus Christ, our savior".
Rajaa, the 18 year choreographer of the Israeli team summerizes: "We have created great and valuable friendships during this camp and had one great summer, and hope you did too ?.
For more information about this ministry, contact the following
King?s Kids Israel, Shefar-Am
House of Light
holight@netvision.net.il
Tel: 972-4-9865943, 972-54-986594
P.O.Box 40
Shefa-Amer 20200