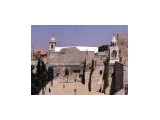 BETHLEHEM, West Bank (AP) ? A circle of stones marked the spot Monday in Manger Square where a worshipper emerging from the Church of the Nativity was killed over the weekend ? by Israeli fire, according to Palestinian witnesses. Israel denied aiming at the shrine, built over Jesus' traditional birth grotto.
In the basilica, three windows were punctured by bullets, and priests said an adjacent Roman Catholic church, St. Catherine's, was hit by two bullets during Sunday Mass, frightening worshippers and shattering glass, but causing no injuries.
Israel accused the Palestinians of launching attacks on Israeli targets from areas near churches. The military said mortars were recently fired at the Jewish neighborhood of Gilo from the courtyard of St. Nicholas Church in Beit Jalla, a town next to Bethlehem. The army did not return fire, said army spokesman Lt. Col. Olivier Rafovitch.
``There is a cynical and deliberate use of Christian holy places by Palestinian militias in order to shoot against Israel,'' said Israeli Foreign Ministry spokesman Emannuel Nahshon. ``This is done deliberately in order to provoke an Israeli reaction, which would somehow put the Christian world at odds against Israel.''
Israel's five-day military presence in the biblical town was drawing increasingly vocal protests from church leaders, who demand Israel's immediate withdrawal. On Sunday, Pope John Paul II expressed sorrow over the killing outside the church.
Israeli tanks rumbled into Bethlehem and five other West Bank towns in response to last week's assassination of an Israeli Cabinet minister by Palestinian militants.
Israel said the military operation was meant to pressure Palestinian leader Yasser Arafat to arrest and hand over the killers, and also to prevent other attacks. The Palestinians have said they would try to bring the assassins to justice, but not extradite them to Israel.
The Israeli incursions have drawn Palestinian fire. In Bethlehem, Beit Jalla and the Aida refugee camp, 11 Palestinians, including eight civilians, have been killed in the fighting since last Thursday, Palestinian doctors said.
On Saturday, 19-year-old Johnny Taljieh was emerging from the Church of the Nativity with his father, Yousef, and his 4-year-old cousin Michael.
Taljieh was killed by a single bullet while standing in Manger Square. A witness, Abdullah Abu Saba, said shots were fired without warning from two tanks parked on a hilltop about a half mile away from Manger Square.
The Israeli army denied Monday that shots were fired at the Church of the Nativity, saying its forces do not have an uninterrupted view of the church.
A priest displayed bullet fragments, but there was no official information on the type of bullet that hit the church.
Israeli tanks have thrust deep into Bethlehem, a town whose 30,000 people are about evenly divided between Christians and Muslims. The tanks have stayed clear of Manger Square. But on Sunday, a tank shell fell about 50 yards from the Church of the Nativity. Palestinians said two people were wounded. The Israeli military said soldiers fired a tank shell after armed Palestinians shot at them.
Since the killing, passers-by have placed a circle of stones around the blood stain on the pavement in Manger Square, where Johnny Taljieh collapsed. Police barriers have been erected around the simple memorial.
A poster of Taljieh was plastered on the outside walls of the basilica. Taljieh graduated from high school last year and was working in the family's coffee shop.