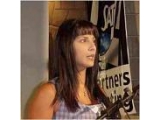 LARNACA, CYPRUS (ANS) -- Rita Younes, 32, knows all about violence, for she grew up during the dark days of the civil war in Lebanon. However, this haunting experience has shaped her life and ministry and given her a deep love for the children of the Middle East and North Africa.
Now based at the SAT-7 studios in Beirut, Rita talked about her life as the writer, producer and host of the wildly popular daily children's show, As Sanabel or "Ears of Wheat," during the recent SAT-7 gathering in Larnaca, Cyprus.
"I was born in Lebanon during the civil war and because of that I didn't lead a proper childhood," she said. "All I can remember of my childhood was death and war and killing. I lost my mother when I was just seven years old, not because of the war, but because she was sick. I was living with my father in another part of Lebanon and because of the war I couldn't see her when she passed way. We were not allowed to go to Beirut because of the war situation.
"I often wondered why I had to go through all of this, but now, as I look back, I know that God was preparing me for something really great. I now feel more companionate to the people, especially the children that live in very difficult circumstances in their countries."
Rita said she was raised a Maronite Catholic and committed her life to Christ at the age of 17. She now attends an Assemblies of God church in a suburb of Beirut.
"At the age the age of 19, I got married and I started working with a Christian radio station called FEBA Radio. I wrote and hosted programs for youth for six years and I lived in Cyprus for two years and then went back home," she continued.
"My story of how I got involved with SAT-7 is amazing; in fact the beginning was quite funny and a part that was a great experience from the Lord. In 1995, when SAT-7 started as a vision, they were looking for a place to build their studios and also for talented people to write scripts and to host programs."
She said that a couple of men came to FEBA Radio in Lebanon to see the facilities and to explore if FEBA and SAT-7 could work together. "One of them was a Swede and the other was a Jordanian-American," said Rita. "This Jordanian-American had lived for many years in America and had quite an American accent so I didn't recognize his Jordanian accept. The men asked me to take them around the facilities and to discuss if they wanted to use these facilities.
"I felt very tired. It was the end of the day and I wanted to go home and I didn't know anything about SAT-7, consequently I was making jokes about them to my friend who was with me, assuming they didn't understand Arabic. The one who was Jordanian-American asked me if I was interested in television and added that he thought I would be very good in television. I said in English, 'Thank you. No I'm not.' Then I said to my friend in Arabic, 'This guy wants to make me a star.' Then after that, we went to my office and he asked me in English if I had scripts he could see. I told him that I wrote for the youth. He wanted to see some of them and I explained that they were in Arabic. I then asked him, 'Do you know Arabic?' He looked me straight in my eyes and replied in perfect Arabic, 'Of course. I'm Jordanian.' I then thought I was in big trouble as I had been making fun of him."
Rita then explained the spiritual side of the story:
"The men took my scripts and, against my will, I did a screen test. I didn't have any vision for television. They came back two months later and said, 'Rita, we need you. Can you do a pilot of a children's program for us?' So I made two or three for them and they came back on May 5, 1996, three weeks before the first SAT-7 broadcast, and said, 'You are the one. We need you.'"
She said she went home that night, totally confused with the situation. "I couldn't sleep and so I went into the living room and put on the light and I began praying,' Lord," I said, "this is a big responsibility. How can I do programs for children in many countries, including North Africa? I know the Lebanese children and what they need. I know how they think and how they behave, the games they play, but how will I know about a kid in Morocco and the kind of programs that child will watch? I'm really scared. I don't want to do it.'
"God told me that night, 'Rita, I don't need your skills, all I need from you is to love these children and this love is not your love, it's My love to them. It's a love without borders - without barriers. So you will just be a channel. Taking My love to these kids.' My response was, 'How can I love kids that I have never seen? I have to meet people before I can love them.'
"God told me and said, 'Okay, I will let you see these kids.' I remember sitting and praying and I started 'seeing' kids from all over the Arab World. I saw kids barefoot running in the streets. I saw them eating ice cream and riding camels. I saw girls wearing very nice dresses. And I felt that night that God gave me love for these kids -- the kind of love that He wanted me to have."
Rita went on to describe that love. "You know when you are watching a comedy movie and you start laughing so much that it hurts? Well, this is what I felt that night. God gave me the kind of love that hurts so much and felt I could not take it anymore. I knew that night God had started something different in my life and through me. Now God has given me the opportunity to minister to the kids and to meet them. I went to Jordan, I went to Turkey and met Iraqi refugees, I went to Tunis and Morocco, and you have to see the kids and the way they run to me and hug me and they loved me because they have seen me on the TV screen, but they didn't know that I had seen them long before they saw me, because God gave me that vision of and for them.
"EARS OF WHEAT"
Rita now has an incredibly popular program that is aired on SAT-7 five days a week. It is called As Sanabel or "Ears of Wheat." (Pictured: Rita and "Sanbool the Clown" on set at TV studios in Sweden).
She went on, "We are planning God willing to have it seven days a week starting in April 2002. It is bouquet of different segments. It has a Bible story, prayers, mimes, songs, handicraft coloring, and all kinds of education and spiritual segments. I have a target each year to visit two Arab countries and record with the children there. What they present is not jeopardizing their situation in their country. All they do is present their local culture. So for instance, when I went to Morocco, I gave them the program and they presented a Moroccan wedding, their songs and their famous cuisine and their national anthem, and their dances and it's great. We were also able to teach them some Christian songs.
"It's the only children's program on SAT-7. I write the program, produce it and I host it. I produce it with TV-Inter (Sweden) and so I travel every two or three months to Sweden with my team and we record some 20 complete programs and many segments. I stay there for two weeks. Each program has a theme and we have drama on that theme, a song, a prayer, a Bible story, we have sketches, we have handicraft coloring, sports, we have a cooking segment, a news segment from all around the world. It's a bouquet of different segments and every day it is different."
When asked the kind of problems that children in the Arab World face, Rita replied, "Security, this is the major problem. I see the letters. One month ago, a kid from Bethlehem wrote and said that he is not going to school anymore because of the situation there and he said that the safest room is his mother's room so everyone in the family hides in that room when fighting starts in the street. I could understand this as I, as a child, lived like this - in one room with a lot of people because this was the safest room. We had to think about windows because of the shelling. This is tough for the kids. He said, "Rita, each time there are bombs I pray that peace will occur because I want to see you one day." He knows that there is no political relationship between Lebanon and Israel. Would you please send me your picture so that even if I can't meet you, I will have it with me now.'"
To illustrate the difficulties that these children face, she said she recently received a drawing from a young girl in a North African country. "This girl is nine years of age. The drawing was amazing you could see what she was thinking. It was a picture of Jesus on the cross and Jesus was holding in both of his hands the flag of her country. On the left hand of Jesus was a bearded man killing small kids. She wrote, 'This is what we are living and this is the disease we face.' On the other side of Jesus, was a child holding a cross and smiling and saying, 'This is how we want to live.' This is a very powerful drawing because I never ever tackle in my programs any such issues, but they know from the program that we are different and that we have a God that is full of love."
I then asked her why television is so powerful in the Middle East and North Africa?
"The first reason," she said, "is that television is the only source of entertainment in the Middle East and North Africa. Everybody likes to have a television, even if they don't have anything else at home. And satellite television is their door for the outside world because many of the governments control all the programs that they see in their countries. So that's way television, especially satellite television, is very powerful in the Arab World."
And Rita Younes is seeing "Ears of Wheat" springing up all over this troubled area. She and her SAT-7 colleagues are bringing hope to a region where many have lost hope.