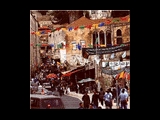 JERUSALEM (November 29) - Heads of Christian churches here charged yesterday the dispute over plans to build a mosque in Nazareth shows the country cannot be trusted to respect any religion's holy places and the need for international guarantees.
The statement, signed by the heads of all the historic churches, including the Greek Orthodox, Armenian, and Latin Patriarchs, Franciscan Custos of the Holy Land, and Anglican and Lutheran bishops, referred to plans to build a mosque on an area, near the Basilica of the Annunciation, where the Nazareth Municipality had planned a plaza for pilgrims arriving for the millennium.
After Muslim activists occupied the land for more than a year, the government offered a compromise according to which a smaller mosque would be built, after the visit of Pope John Paul II.
Two weeks ago, the Israel Lands Administration authorized the use of state land for the mosque, removing the last obstacle to construction.
The church leaders demanded the government revoke its decision and charged the plan to build a mosque had been used by "certain Israeli political circles" to sow division between Muslims and Christians and among Muslims themselves.
"We are surprised and distressed to see that promises and assurances given us by government representatives have not been honored, and that the requests, appeals, and protests of the Christian Churches in the Holy Land and throughout the world have been treated with virtual contempt," the statement said.
The statement said the mosque approved by the government is not being welcomed by Muslim authorities themselves, either here or abroad.
The Christian leaders said Israel should restore "dozens of ruined or semi-ruined mosques" and Muslim cemeteries in Israel to Muslim hands and allow the Muslim authorities to take direct control of government administered religious property before building new mosques.
The Christian leaders said the episode showed Israel could not be trusted to respect any holy places and international guarantees might be more necessary than ever.
The Vatican has pressed for such guarantees, especially with regard to Jerusalem, while the government has insisted its record as a guardian of the holy places shows there is no need for them.
A Foreign Ministry spokesman said last night the agency had not yet received the statement and would study the document when it received it.