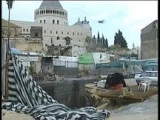 Thousands of Islamic Movement members gathered in Nazareth on Saturday to protest against a government decision barring continued work on the Shihab al-Din mosque, which has been under construction for several weeks at a site very near the Christian Basilica of the Annunciation.
The protestors chanted anti-government slogans and condemned Prime Minister Ariel Sharon, calling him "the enemy of God."
On Friday a mass prayer was held without incident.
Last week, the Sharon government decided to consider halting construction of the mosque at its present location. A previous ministerial committee formed by the Barak government, and headed by then public security minister Shlomo Ben Ami, gave a green light to the mosque's construction near the church.
Christians in Israel and overseas oppose the construction of the mosque at its current site, objecting to its proximity to the Basilica of the Annunciation, and fearing that it will damage Nazareth's Christian character.
Heads of the Islamic Movement in Israel and the Waqf Muslim religious trust have launched a public campaign to protest the government's decision to reconsider the mosque's construction. They accuse government officials, and also church leaders in Israel, of "sowing hatred" among Nazareth residents.
In an unprecedented public attack Thursday, the Vatican representative dealing with the controversy described the construction project as "a clear provocation."
Addressing the special ministerial committee convened to assess the dispute among the Christians and Muslims in Nazareth, Father Pierbattista Pizzaballa said that the initiative to build the mosque in close proximity to the Basilica of the Annunciation "is unacceptable to the Christian world."
"The mosque, at this site, is solely meant to interfere in one of the holiest places of the Christian world," he added.