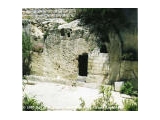 Rev. Alex Awad, pastor of East Jerusalem Baptist Church, Rev. Jack Sarah, pastor of the Jerusalem Alliance Church and Rev. Rod Green, pastor of the Nazarene Church, wish to extend an invitation to you to join with our various congregations from Jerusalem (and hopefully the Bethlehem area congregations) in an Easter service that will be held on Sunday, May 5th starting at 9:00 AM.
For the last few years, several Evangelical congregations have cooperated together in holding a joint service to celebrate the resurrection of our Lord at the Garden Tomb following the Eastern Orthodox Calendar.
A brunch will take place afterwards at the Jerusalem House (a Baptist center right beside the Nazarene church which is a few minutes walk from the Garden Tomb.
Note that the Arab evangelical churches celebrate easter on the Eastern Church Calendar.
For more information, please contact Rev. Jack Sara at jack@jrol.com