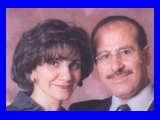 The Palestinian authority is divided into two parts, the West Bank and the Gaza strip. Gaza strip is the most populated area in the world per square kilometer. 350 square kilometers are inhibited by more than one Million Arabs and 6,000 Israeli settlers. The Arab population has been under siege for more than 12 months.
Pastor Hana Misaad holds a PHD in Theology from Fuller Seminary in Pasadena, CA. He is a pastor of the Local Baptist church in the city of Gaza. He is also suffering with his people where unemployment reaches more than 75%.
In September of the year 2000, Pastor Hana married Suhad, a Palestinian born in Kuwait. She holds a Jordanian Passport. The newly wed couple settled in Gaza.
In October of the year 2001, Suhad went to Jordan to visit her family. When she decided to come back home, the Israeli government refused to approve her visa, and she has been away from her home since then. Pastor Hana says "I am not able to express in words without tears filling my eyes the pain & the hurt we are going through because of this unfair separation".
Pastor Hana visited Jordan last month, and was able to meet with Suhad. He went back to Gaza, while Suhad had to stay in Amman, Jordan.
The story of Hana and Suhad is the story of many Palestinian families that are scattered between the west bank, Gaza, Jordan, Egypt and Israel, and not able to reunite.
On the other hand, Pastor Hana reports some encouraging news from Gaza. The Baptist Church members and the Christian Mission to Gaza are partnering with other Christians who were able to help the poor & the needy in Gaza. Food was distributed to the Christian community in Gaza where almost 70 families received this aid in the last month.
"Church members are encouraged in the Lord", continues Pastor Hana. "They want to learn the Bible and do outreach. Please keep us in your prayers".
If you would like to help pastor Hana's special case, please contact
Come and See Editor