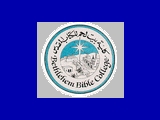 Indeed, these students are heroes. Since April, they have suffered a lot because they had to stay in their homes for more than 60 days, because of the curfew. Intensive closures were not easy ; however the students used the early sunlight every time the electricity was out. They were on their knees studying when the heavy Israeli tanks were shaking the streets.They were able to invest their lives for the Lord in the midst of war and hatred. At the same time, the students are full of love for the lord, for all of the Israelis and the Palestinians, while continuously promoting divine Love and justice in their troubled home land.
The Main Speaker at the Graduation Ceremony was Brother Andrew, better known as "God's Smuggler". He has been involved in ministry in the Middle East for many years, and him attending the meeting was very encouraging to the students, and also to the President of the College, Dr. Bishara Awad.
Pastor Hanna Katanacho was the master of ceremony of the graduation party. Hanna (34 years) who was born and raised in the old city of Jerusalem is one of the brilliant and dynamic teachers at the college, with speciality in Old Testament theology. He continues to amaze Israeli soldiers every time he passes by the many checkpoints between his home in the old city and the Bible college, which is located in the Palestinian Authority. He quotes Old testament verses in Hebrew and witnesses to them the Love of Jesus.
Hanna will be leaving Bethlehem Bible College at the end of July to continue his studies for PHD in Theology from Trinity Evangelical Divinity School in Deerfield, IL. Upon graduation, Hanna and his wife Dina will be returning to serve the Lord in the Middle East.
The Galilee extension of the Bethlehem Bible college celebrated its first student gathering in Nazareth few days after the graduation in Bethlehem, where president Dr. Bishara Awad and Dean of the students Dr. Saleem Munayer opened the meeting in a joyful way celebrating God's faithfulness. The Galilee extension has 44 students and is growing and expanding continually.As a result the Bethlehem Bible College is investing more in Galilee, and 4 classes will be offered this coming semester.