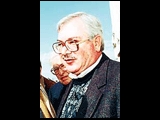 Palestinian peace activist Hana Siniora, a 65-year-old East Jerusalemite Christian, long-involved in pro-peace activities, has accepted Palestinian Authority Chairman Yasser Arafat's appointment as the PLO's ambassador to Washington. The choice of the moderate Siniora is seen as a bid to improve PA ties with the U.S.
Siniora departs Tuesday to take up the position and find new offices for the legation.
His appointment is regarded as a gesture to the Palestinian Christian community and the veteran leadership from the territories. He replaces Hassan Abdel Rahman, who has held the position for more than a decade.
As relations between the PA and U.S. administration deteriorated, Rahman came under attack by Palestinian officials who have pressed Arafat to replace him. During discussions with the PA about reforms, American officials have also recommended a change in the PLO representation in Washington, speaking of the need to rehabilitate the PA's standing in public opinion and the media.
Lately, the PLO was evicted from its Washington offices, due to late payments with the rent. Siniora, who was at an Istanbul meeting of the Louisiana Forum this weekend, expressed hope that his connections with church leaders and Jewish peace activists in the U.S. will help him improve relations between the PA and the U.S.
A trained pharmacist and a former editor of Al Fajr, Siniora is now publisher of the Jerusalem Times, founded as a joint Palestinian-Israeli newspaper. Siniora, who has a blue Israeli ID card as a resident of Jerusalem, was considered in the 1980s one of the leading Palestinian figures in the territories.
In 1988, along with Dr. Mubarak Awad, he began promoting Palestinian non-violent opposition to the occupation, including a tax revolt and boycott of Israeli goods. Under instructions from the attorney general, the police interrogated him on suspicion of "sedition." That same year, his two cars were torched by Popular Front activists angered by statements that he was considering running for mayor of Jerusalem.
Siniora partnered with Moshe Amirav, a former Likud politician, to run the Israel-Palestine Committee for Research and Information, which to this day brings together Israeli and Palestinian experts on a variety of subjects of concern to both sides, and promotes peace education.
In 1991, Siniora took part with Israelis in a secret conference at Stanford University that produced a political memorandum of understanding. In 1994, after the Oslo agreement, he headed a group of Palestinians who wanted to establish a bank in the territories, who were backed by Bank Leumi, a Moroccan bank, and a Spanish bank.
Siniora also joined an Israeli group that called on the Moroccan king to allow the remains of the victims of the sinking of the illegal immigration ship Egoz to be brought to Israel.