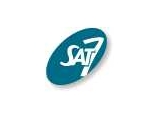 CAIRO, EGYPT (ANS) -- A serious fire has destroyed the main studio at SAT-7's spectacular new media center in Cairo, Egypt, just seven-and-a-half months after the center was opened. The blaze in the new Regional Television Production Studio took place early morning Wednesday, September 4 and the cause is still being investigated. No injuries were reported. (Pictured: Terry Ascott outside the Cairo media center that was hit by fire -- picture was taken earlier this year).
Terry Ascott, SAT-7's International chief executive officer, said from his office in Nicosia, Cyprus, "At 2:00 AM, security guards found smoke coming out through the air conditioning system, and the fire department was called in. They used a lot of water to put out the blaze, which has destroyed everything inside the studio including the new lighting grid, some monitors and sets. No cameras were lost as they were in a separate storage area overnight.
"Much of the building is smoke damaged, but most can be fixed by cleaning and repainting. None of the editing equipment has been damaged, despite water getting into the basement area. It is not yet clear if there is any structural damage to the studio walls or dome roof.
"We thank God that there were no injuries to any staff, or fire department workers," said Ascott.
The SAT-7 Egypt staff was sent home early in the day, according to Ascott, as there is no electricity in the building.
"The managers are currently meeting with the insurance people and with fire department officials, who need more time to determine the exact cause of the fire. It is hoped to reopen parts of the building early next week."
Ascott asked supporters in North America to "Please be in prayer for the Egypt team as they handle this very disappointing development. We pray that this will in fact turn out to be for the good of the Kingdom, and that the tragedy will, among other things, strengthen team unity and our ties with the Christian community in Egypt - many of whom have already expressed their sincere sympathy and concern."
J.B. Kump, regional director of SAT-7 North America, explained that while the facility was insured, there will be uncompensated losses.
"Full damage is not known but the damage to equipment alone has initially been estimated to be over $400,000," he said. "Additionally, there is extensive water and smoke damage to the facility and equipment. Other ministries in the region have already expressed sympathy and support for SAT-7."
According to Kump the SAT-7 North America office, along with all other ministry offices worldwide, want to make it clear that gifts to the ministry to offset the additional expense of equipment and space as well as repairs and replacement of facilities, equipment and supplies are "most welcome."
"We believe the Lord can use this tragedy for good and we pray that we will be aware of the direction of His movement in the midst of our sorrow," said Ron Ensminger, SAT-7 North America CEO.
SAT-7 is an Arabic-language, Satellite Television ministry to the Middle East and North Africa. The ministry is partnered with over 30 agencies, including the United Bible Societies, Campus Crusade for Christ and local churches in countries such as Egypt, Lebanon and Kuwait.