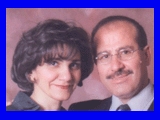 Hanna Masaad, is a native of Gaza and who holds a PHD in Theology from Fuller Seminary and pastors the small local Baptist Church in Gaza City. Two years ago, he married Suhad, a Palestinian Christian who was born in Kuwait and holds a Jordanian Passport. They both moved to live in their home in Gaza and serve in the only Baptist Church in one of the most populated cities in the world.
Gaza is a very isolated city. It is part of the Palestinian ruled-areas, but travel from Gaza to the West Bank is not possible in the last year because of closure (People who have to travel, go through Egypt, then Jordan and then to the West Bank).
Gaza City is also one of the worse places to be right now since unemployment can reach 80%. When the Israelis want to deploy somebody, they deploy him to Gaza. This happened last week when a brother and a sister of a suicide bomber from the West Bank were put in a van, given 200 USD and dropped in field in the Gaza Strip.
Suhad went to visit her family in Jordan eleven months ago, but was not allowed back to Gaza. It took lots of prayers from believers all around the world, lots of letters sent to the Israeli embassies in Washington, London and Amman from Christian Organizations and other concerned people.
Last week, Suhad finally arrived back home, after the Israeli High Court ruled last month she could get back. The small congregation in Gaza had a big celebration on Saturday and Sunday for the return of their pastor's wife.
In a phone interview with Pastor Hanna, he wanted to thank all friends who did pray for them, and for all who have sent letters and talked to people that could influence the Israeli authorities to allow her return. He asks people to continue to pray for them since she was given a temporary permit to stay for seven months only, and she has to apply again when this period is over.