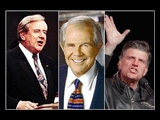 TEHRAN, Oct 12 (AFP) - A personal representative of Iran's supreme leader has called for three prominent US Protestant ministers to be killed for insulting the Muslim prophet Mohammed, a report said Saturday.
The Abrar newspaper quoted Ayatollah Mohsen Mujtahed Shabestari as saying during a Friday prayer sermon in the northwestern city of Tabriz that "in our opinion, to kill these three is necessary."
"US leaders want to repeat the crusdaes," he alleged.
Shabestari, who is supreme leader Ayatollah Ali Khamenei's personal representative to Iran's Azerbaijan province, only referred to the three as "the Israeli mercenaries" who needed to be "separated from other Christians".
However, other officials here have already singled out Jerry Falwell, Pat Roberston and Franklin Graham, the son of well-known televangelist Billy Graham.
In an interview broadcast last week on the CBS television's "60 Minutes" news programme, Falwell called the prophet "a terrorist".
Franklin Graham said last November that Islam was "a very evil and wicked religion."
For his part, Pat Robertson said in February that Islam was a religion of violence seeking to "dominate and then, if need be, destroy".
In 1989, Iran's late supreme leader Ayatollah Ruhollah Khomeini issued a fatwa ordering the death of Indian-born British author Salman Rushdie over his book "The Satanic Verses", which was deemed to be blasphemous.