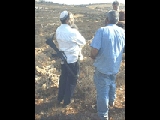 Yesterday I got a call from my friend Alison who works at the Bethlehem Bible College. She told me that her husband George's family farm had been damaged by a group of Israeli settlers. Settlers came in the dead of night and bulldozed a road to and through the family property uprooting small trees, snapping fences, and destroying rock walls.
The family owns about 100 acres on the top of a mountain between the Israeli settlements of Neve Daniel, Efrat, Betar Illit, and Eli'ezer. It's in a prime location and much valued by the settler neighbors. Unlike most Palestinian farmers, George's family holds proper private ownership papers recognized by the Israeli government on the two tracts of land. The family has owned the property since 1924 -- or for about 50 years before the first settlers moved into illegally acquired land next door
Today I went with George to the property near Bethlehem to see what had happened and take a few photos. I saw the newly bulldozed road, the uprooted trees, the crumbled walls. George went to meet another friend, and I sat for a while under an olive tree. I stared down into the valley at two groups of homes. The first was a small Palestinian village, Nahaleen, sitting there for perhaps hundreds of years. Aggressively butting beside it was the huge and modern Israeli settlement of Betar Illit. The placement of the settlement was so threatening and forceful. Sitting there I wondered what God would say about the placement of the colony. Would God be pleased? Or would he be saddened? It sure saddened me. I wondered who would live in a settlement like that? What's the mentality of a man who would live there, obviously trying to push the neighboring community away? I would soon find out.
George came back with a friend, Vernon. Vernon has an interesting story. He is a former American evangelical Protestant turned Jewish convert. He moved to Israel from Oklahoma almost thirty years ago. Vernon is not an Israeli citizen, but has resident status. He told me he has the same rights as Israelis except voting. George's farmer brother Daher was there then too, and he fixed us a cup of tea while we ate fresh figs from their trees.
Daher complained that he couldn't do any work on the farm because Israeli settlers kept coming onto the property with guns to stop him. (I took this complaint with a grain of salt. Certainly neighbors did not suddenly show up with guns drawn to stop a man from working his land.) Daher asked us to stay a few minutes longer. He wanted to plow a section of land, and he claimed he had been prevented from doing it earlier. Vernon and I were glad to hang around. We worked on closing a section of the rock wall that the settlers had destroyed. We finished and walked away.
And then the armed Israeli settlers arrived!
Two Israeli settler men with rifles tried to put a stop to any further activity. These were not men from the army or the police. They were ordinary men who lived in the communities next door. And they were there to harass and intimidate the Christian family who rightfully owned the land. I was shocked and surprised at their brazenness. They just came onto the land with guns drawn to stop any legitimate work
Vernon asked them in Hebrew how they could leave their community on the Sabbath. George started calling the police. Daher argued with them. I took a few photos. Eventually they walked away, but not before they had threatened Daher to stop all farming. It's this blatant disregard for the law and the shameless lack of human respect for Palestinians that continues to astonish me. You wouldn't believe the things I see.
Check Bob's Web site at
www.bobmay.info