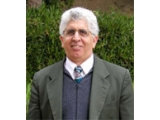 East Jerusalem Baptist Church in East Jerusalem rejects statements spoken publicly by Reverend Jerry Falwell in which he launched a verbal attack on Islam and the prophet of Islam. The congregation represented by its pastor, Rev. Alex Awad, considers such statements to be racist, provocative and irresponsible. Furthermore, such statements are indicative of the spiritual and moral instability of the person expressing them.
We, at East Jerusalem Baptist Church, add our voices to voices of Christians around the world that reject these statements which express sentiments contrary to the teachings of the Bible and especially the teaching of Christ in the Sermon on the Mount, whereby our Lord taught us to live in peace and forgiveness with all people.
Furthermore, we, at East Jerusalem Baptist Church, reject all similar statements aimed at insulting Islam, Muslims, or the prophet of Islam. We call on all people to live a life of peace, justice and reconciliation.