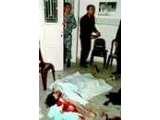 SIDON, Lebanon (AP) - An American missionary has been shot dead in southern Lebanon, police said Thursday.
The body of Bonnie Weatherall was found with three bullets to the head inside a two-storey building in the port city of Sidon, police said. Weatherall was found lying in a pool of blood in the building which houses a chapel and a clinic, where she also worked as a nurse. It was not clear whether the killing was politically motivated.
The killing was the first of an American citizen in more than 10 years in Lebanon, which saw many attacks against Americans in the 1980s during the civil war.