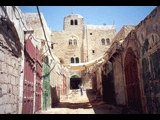 "The most dangerous escalation is the closure of Bethlehem, which will last until the end of December. There won't be any Christmas," Arafat told reporters outside his battered compound in the West Bank town of Ramallah.
The re-occupation of Bethlehem constitutes an "international crime" about which "the world is staying silent, it is hard to believe!" he said.
The Israeli army re-occupied Bethlehem, in the southern West Bank, last Friday after a suicide bombing left 11 Israelis dead on Jerusalem commuter bus.
It was later declared a closed military zone under an order which is valid until December 30. Residents are under curfew and journalists are not supposed to have access to the town, although both measures have only been loosely enforced.
The vice-governor of Bethlehem, Mounir Salameh, confirmed that most Christmas celebrations have been officially cancelled, but that the traditional midnight mass at the Church of the Nativity was still likely to go ahead.
Arafat traditionally attends the mass, but was prevented from doing so last year by Israel. There was also a prolonged standoff between the army and Palestinian militants holed up inside the church, which eventually saw 13 of them sent into exile.
Arafat slams Israel
The Palestinian leader also slammed the recent escalation of violence in the Gaza Strip and West Bank, where two local militant leaders were killed overnight in a huge explosion in the northern refugee camp of Jenin.
Palestinian sources said Alaa Sabagh (25) the local leader of the Al Aqsa Martyrs Brigades, a group linked to Arafat's Fatah movement, and Imad Nacharti (23) the local leader of Hamas' Ezzedine Al-Qassam Brigades, were killed when an helicopter missile hit the building they were in.
The Palestinians described the incident as an "assassination", but the army denied any involvement and Israeli radio said the men were killed during a "work accident", implying they were preparing explosives.
All West Bank towns but Jericho have been re-occupied by the Israeli army, which is attempting to crack down on armed Palestinian groups. It also carries out regular raids into the Gaza Strip for the same purpose.