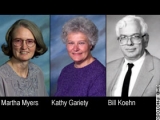 RICHMOND, Va. (BP)--Three Americans were killed and another wounded Monday, Dec. 30, when a lone gunman attacked a Baptist mission hospital in Jibla, Yemen.
Hospital administrator William E. Koehn, business manager Kathleen A. Gariety, and nurse Martha C. Myers were killed and pharmacist Donald W. Caswell was injured in the early morning attack.
While initial reports from the scene are sketchy, the Americans were involved in a meeting at the beginning of the work day at the hospital. A single gunman burst into the room and opened fire.
Koehn, Gariety and Myers were killed immediately. The gunman then reportedly moved to another room, where he wounded Caswell, who was taken to surgery. He is expected to recover from his injuries.
News reports indicate a 35-year-old man has been taken into custody.
Koehn, 60, of Arlington, Texas, had planned to retire in October 2003 after 28 years of service. Gariety, 53, was from Wauwatosa, Wisc. Myers, 57, was from Montgomery, Ala. Caswell, 49, is from Levelland, Texas. All four served at the hospital as representatives of the Southern Baptist International Mission Board.
"We are devastated by this news," said IMB spokesman Larry Cox. "We are moving quickly to minister to family members located in Yemen, as well as in the United States."
No decision has been made about relocating other Americans connected with the hospital, Cox said. The American embassy in Sanaa advised Americans in the country to enhance their personal security and asked the Yemeni government to provide additional security for Americans.
The Southern Baptist International Mission Board has operated Jibla Baptist Hospital, located about 120 miles south of Yemen's capital, Sanaa, for 35 years. More than 40,000 patients a year are treated at the facility, which is on property owned by the Yemeni government. The hospital provides free care and medicine to those who cannot afford it. It also has responded to relief needs during earthquakes and famine.
The International Mission Board (www.imb.org) is an entity of the 16-million-member Southern Baptist Convention. It has 5,487 missionaries working among 1,497 people groups worldwide. In 2001, Southern Baptist missionaries and their co-workers baptized more than 395,773 new believers and organized 5,775 churches.