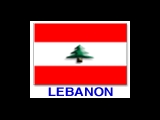 The head of the Maronite Christian church, Patriarch Nasrallah Sfeir, has renewed his appeal for the withdrawal of Syrian troops from Lebanon.
Speaking on his return to Beirut from a six-week visit to North America, the Patriarch said he wanted a free and independent Lebanon.
Tens of thousands of Christians took to the streets to welcome him home, but there was a smaller counter-demonstration by students in the north of the country.
Correspondents say Patriarch Sfeir is the most powerful figure opposed to the Syrian-backed government, and the large demonstration in his support underlines the growing resentment felt by many Lebanese towards the continuing Syrian domination of their country. Syrian troops have been deployed in Lebanon since 1976.
Syria says their presence is necessary for the stability of the country, which is still recovering from fifteen years of civil war.