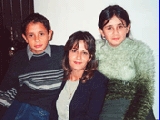 In the latest twist in a custody battle lasting nearly five years, a court in Irbid, 50 miles north of Amman, has ruled that Siham Qandah be imprisoned for 30 days until she surrenders custody of her children to the authorities.
The ruling, dated January 16, was delivered to Mrs Qandah four days later. Mrs Qandah?s lawyer appealed against the ruling on January 21, buying her time for the next few weeks at least, whilst the court considers the appeal.
?It is very hard to anticipate what will happen to this family after that,? a source close to Mrs Qandah told CSW. ?Please, can you find a way to help them?? he added. In the meantime she has taken her children into hiding once again.
Mrs Qandah was previously forced into hiding in October 2002, after she was told by the Ministry of Justice that she had less than a week to hand over her children.
Rawan, 14, and Fadi, 13, are threatened with separation from their mother because the Jordanian courts have deemed Mrs Qandah unfit to be their custodian due to the fact that she is raising them as Christians, rather than Muslims.
When Mrs Qandah?s husband died in 1994, a local Islamic court declared that he had converted to Islam years earlier. According to Islamic Law, this meant his minor children automatically became Muslims too. The alleged conversion, which Mrs Qandah and her family have consistently disputed, eventually sparked a lengthy legal battle for the custody of her children. Legal custody was finally awarded to Mr Al Muhtadi, Mrs Qandah?s estranged Muslim brother in February 2002, when Jordan?s Supreme Court upheld earlier rulings.
International attention drawn to her plight resulted in the involvement of a member of the Royal Family, who appointed a team to look into her case to try to find a solution. This latest development has shown that the efforts of this team have so far been in vain.
Christian Solidarity Worldwide and others are concerned that the ruling of the Supreme Court, which placed religious affiliation of the parent above the best interest of the child, contravenes international human rights law to which Jordan is a state party. CSW has launched an advocacy campaign asking those concerned to protest to the Jordanian authorities and to alert their MPs and MEPs.
Stuart Windsor, National Director of CSW, said: ?We are shocked and saddened to hear of this latest distressing development in Siham Qandah?s case. We are urging the public and the international community to voice their concern at the injustice of this situation and call upon the Jordanian authorities to allow Siham and her family to live together peacefully.?
Notes to Editors:
Case details:
Siham Qandah's troubles began when she applied through the civil courts for the transfer of her husband's army pension to her. The Shari'ah Court stopped the process saying her husband had become a Muslim three years before he died in 1994. However, although her husband?s conversion document bears the signature of two witnesses, there is only a scrawled cross in the space where his signature should lie.
Under Islamic law, if a father converts to Islam, his minor children automatically become Muslims and they would only be able to receive their inheritance through a Muslim guardian.
Having been advised that under Jordanian law it would be hopeless to contest her husband's conversion certificate, Mrs Qandah decided to ask a long-estranged brother to become the children's financial guardian rather than accept a court-appointed Muslim guardian for them.
Abdullah Al Muhtadi, the children?s Muslim uncle, converted to Islam as a teenager, but Rawan and Fadi have only seen him once and have never met his wife or children.
However, Al Muhtadi did not forward the allotted inheritance as required. He began to object to the children's attendance at the local Roman Catholic School and demanded that they be transferred to a Muslim school and take Islamic religious instruction.
Eventually, Mrs Qandah began court proceedings to change the guardianship but in May 1998 Al-Muhtadi opened a court case requesting full custody of the children and a three year civil battle began.
On June 21 2001, the Civil Court in Irbid handed over custody of the children to Al-Muhtadi, a Muslim Iman (cleric). An appeal to the Irbid Court of Appeals upheld this ruling in January 2002.
When Mrs Qandah appealed to the Supreme Court in Amman, the case was rejected on February 28.
In the weeks following, Mrs Qandah appealed to Jordan's top judicial experts and religious leaders, both Muslim and Christian, seeking a solution to her predicament. She was told that her choices were either to become a Muslim or to leave the country. However, both her children have been blacklisted on immigration computers, so she cannot take them with her.
International attention drawn to the case resulted in Jordanian Intelligence officials assuring her in May and August that they would do everything they could to help her.
However, in October 2002 she was given 5 days to surrender her children in an order issued by the Ministry of Justice. Further international attention at this time resulted in the involvement of a member of the Royal Family, who appointed a team to look into her case to try to find a solution.
This latest development has shown that the efforts of this team have so far been in vain.