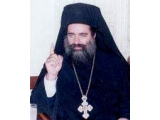 The attendants converged on the church, revered by Christians as the site of Christ's burial and resurrection, and extended an urgent message to Pope John Paul II of the Vatican, Canterbury Archbishop Rowan Williams and prominent religious figures across the globe to help put an end to the U.S. threats to wage war on Baghdad.
They also exhorted Washington to relinquish its provocative and aggressive position towards the Arab country.
"The present target is Iraq, and the next would be other Arab countries," warned Archimandrite Atallah Hanna, the Spokesman for the Orthodox Church in occupied Jerusalem and the Holy Lands.
In a speech following the mass, Hanna ridiculed claims that the U.S. forces are amassed in the Gulf region to liberate Iraq.
"The U.S. military build-up is only meant to control Iraqi oil riches," he charged accusing Washington of seeking to "solve its economic problems at the cost of Arab countries in general and Iraq in particular."
Archimandrite Hanna urged immediate steps to end the American practices which would only inflict harms on the innocent Iraqi people.
Citing brazen U.S. bias towards Israel, he accused Washington of keeping mum vis-?-vis Israel's relentless aggressions in the Palestinian-ruled areas, assassination of Palestinian activists and demolition of Palestinians? homes.
"Why do not American leaders condemn the Israeli terrorist acts and racial practices against the Palestinian people?" Hanna asked.
"Instead, Washington extends political and economic support to the Jewish state, ignoring its nuclear arsenal and stocks of other unconventional weapons," he added.
The revered Christian clergyman branded as shameful the full silence of Arab leaders towards these clear violations.
"Is American now controlling world countries installing regimes and ousting others?" Hanna wondered.
The American policies and stances are "immoral and inhumane", he charged.
On January 11, Archimandrite Hanna exhorted Palestinian Christians to carry out martyr operations against the Israeli occupation forces in the occupied Palestinian territories.
In another related development, a set-in was organized in Bab al-Amoud square in occupied Jerusalem where a group of Muslim and Christian leaders condemned the continued Israeli occupation of Arab lands and lambasted the vicious American scheme against Iraq.